Innovation LLC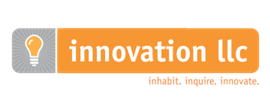 Located in the Illinois Street Residence Halls, Innovation Living-Learning Community (LLC) provides you with resources that can help to make your creative and entrepreneurial dreams a reality. The program includes on-site classes and workshops with faculty and area business leaders revolving around the themes of creativity, innovation and entrepreneurship.
The Garage, a dedicated work space within the community, is available for use by residents as they develop their new businesses and projects. On-site staff members are also available to assist residents as they navigate the ample entrepreneurial and creative resources on the University of Illinois campus and within the Champaign-Urbana community.
Created as a partnership between University Housing and the Technology Entrepreneur Center (TEC), Innovation LLC staff actively connect students with the many opportunities that are available through TEC, including competitions, workshops and events.
Our Mission
The Innovation LLC's mission is to allow students to explore the entrepreneurial process and to give students the resources to further develop their ideas. Whatever your major, Innovation LLC can help you:
Locate key resources on-campus and in the community to make your ideas a reality (mentors, funding, etc.)
Generate ideas and assess opportunities and goals
Expand your creativity and participate in positive risk taking
Broaden your entrepreneurial awareness
Connect with other students who share similar interests in innovation, technology and entrepreneurship
Our Courses
High-interest classes
Small class sizes (20 person max in most classes)
Priority enrollment in most on site classes for LLC students.
Some classes fulfill general education requirements
1 hour Introduction to Innovation course reserved ONLY for LLC students.
Our Instructors
Rob Valli
Stephanie Larson
Danyelle Michelini
Our Programming & Events
Q & As with successful entrepreneurs (luncheons, virtual visits, and our How I Failed... series)
Entertainment (movie nights, Krannert Center performances, etc.)
Workshops with field experts (in marketing, design, etc.)
Competitions (Extreme Entrepreneurial Lock-in, Halloween Challenge, Idea Fair, etc.)
Contact Us for More Information
For more information or to set up a tour, contact:

Jennifer Bechtel (Program Director)
(217)244-4850
bechtel@illinois.edu
Innovation Living Learning Community
Illinois Street Residence Halls
1012 W. Illinois St.
Urbana, IL 61801
Interested in starting an Entrepreneurial Living-Learning Community at your institution?
Check out how we did it in this Guide.