Silicon Valley Entrepreneurship Workshop
ARE YOU INTERESTED IN MEETING SOME OF THE BIGGEST PLAYERS IN INNOVATION, ENTREPRENEURSHIP & VENTURE CAPITAL IN SILICON VALLEY OVER WINTER BREAK?
2017 Applications are now open! Apply today!
The Technology Entrepreneur Center and the College of Engineering will send a select group of students to Silicon Valley during winter break for a 5 day technology entrepreneurship workshop that includes visits to startups and leading technology companies.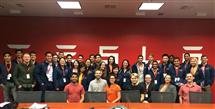 The Silicon Valley workshop exposes students to many facets of technology entrepreneurship, innovation, and leadership and continues to build an entrepreneurial community at Illinois.

The trip will feature corporate leaders, venture capitalists and entrepreneurs in various stages of a startup lifecycle. Students will also have several opportunities to network with prominent entrepreneurial Illinois alumni.

This year's workshop will take place from Sunday, January 8 through Saturday, January 14, 2017.

We invite Illinois undergraduate and graduate students to submit applications to attend this workshop. Applications are due by Monday, September 26, 2016 by 11:59pm. TEC reserves the right to accept applications after the deadline should all available spaces not fill at that time.

The Silicon Valley Workshop is open to all full-time, on-campus students. Students must be on-campus for the full academic year (August 2016-May 2017).

Applicants will be contacted early October if they are chosen for an interview. Interviewees will be notified if they have been selected to attend the trip by 5:00pm on Friday, October 14. Applicants that are accepted but do not wish to attend must let the TEC know of their intent by noon on Monday, October 17, so that alternate candidates may be selected. All accepted students must register and/or pay class fee by Friday, October 21. Fee is aproximately $600 per student. (Subject to change)