ELLC Roundtable





A Big Thank You to The Texas A&M University System for hosting the 8th annual Entrepreneurial Living-Learning Community Roundtable on June 18-19, 2019. It was a great success!

2020 ELLC Venue: Check back for details

Purpose
This program was created in 2012 by the Innovation Living-Learning Community at the University of Illinois at Urbana-Champaign in order to give leaders of ELLCs the opportunity to gather in one spot for shared discussion and networking opportunities. Staff from campuses that are considering starting ELLCs are also welcome and encouraged to join us! The content of the Roundtable is very participant-driven, with lots of opportunities to explore program successes and help answer each other's questions.
Cost
Registration fee is $200 to attend this event, which includes light breakfasts & lunches but participants are responsible for providing their own transportation, accommodations and one dinner. This conference is open to University administration, faculty and staff.
Testimonial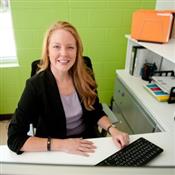 "I found the ELLC Roundtable to be incredibly helpful as I was wrapping up my first year in leading an entrepreneurship community. There are so many tips from other schools, and we were able to connect with others who work with these specialized groups to grow our programmatic offerings in a curricular and co-curricular environment. I personally enjoyed the networking, presentations and discussions around how we can help students learn from founders and leaders within the startup ecosystem to inspire our change makers." Haley Huie, Director, Albright Entrepreneurs Village at North Carolina State University
; 2016 & 2017 & 2018 ELLC Roundtable attendee
2019 Roundtable Agenda (Click here to view pdf)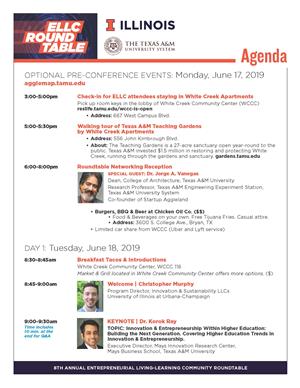 ---

Host a Future ELLC Roundtable
Would your school like to consider hosting the Entrepreneurial Living-Learning Community Roundtable for a future summer? Please contact Stephanie Larson at 217-265-5456 or larson42@illinois.edu for more information on this opportunity to showcase your school's unique program and resources.
Past hosts include University of Illinois, University of Florida, Georgia Institue of Technology, University of Wisconsin, University of Wisconsin-Madison, University of Utah Lassonde Studios, and The Texas A&M University System.
Event support offered to the host school through the Technology Entrepreneur Center (TEC) and the Innovation Living-Learning Community at the University of Illinois at Urbana-Champaign.