Innovation LLC Microgrant Program
Advance your ideas with an Innovation LLC Microgrant!
Innovation LLC Microgrant Program | Spring 2022
APPLY
Application Deadline: Wednesday, December 1, 2021
Interviews: Week of December 6, 2021
During the Spring 2022 semester, four $500 microgrants will be awarded to Innovation LLC students for the purpose of prototyping their project idea.
In the application, students share details about their project, what progress they have made to date, and list what prototyping materials they would like to purchase and exactly how they will use the funding if awarded. Applications are reviewed by a small committee. Finalists are invited to pitch their idea to the committee and tell why the microgrant will help move their idea forward. Students may apply once per semester.
Fall 2021 Innovation LLC Microgrant Award Recipients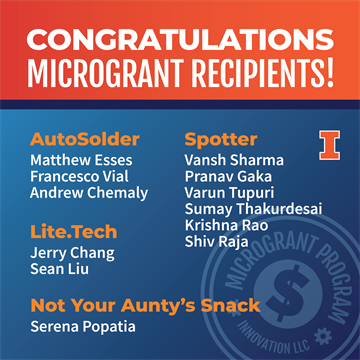 During the Fall 2021 semester, four microgrants of $500 each were awarded to residents of Innovation LLC for the purpose of prototyping their project. Congratulations students!
AutoSolder | A system that solders quietly and efficiently, without the use of a soldering iron.

Matthew Esses, Grainger Engineering, Electrical and Computer Engineering
Francesco Vial, LAS, Computer Science and Linguisics
Andrew Chemaly, Grainger Engineering, Electrical Engineering
Lite.Tech | We aim to build light, cheap laptops specialized in remotely connecting to and syncing with powerful desktop computers.

Jerry Chang, Grainger Engineering, Engineering Physics
Sean Liu, Grainger Engineering, Computer Science
Not Your Aunty's Snack | Snacks that combine American favorites with Indian flavors, with products including roti chips, Indian crackers, gur granola bars, and chocolate covered murmura bites.
Serena Popatia, LAS, Economics
Spotter | An app that shows when gym equipment is in use, helping people plan the best workout time.

Vansh Sharma, LAS, Computer Science and Philosophy
Pranav Gaka, LAS, Computer Science and Economics
Varun Tupuri, LAS, Computer Science and Economics
Sumay Thakurdesai, Grainger Engineering, Computer Science
Krishna Rao, Grainger Engineering, Computer Science
Shiv Raja, Grainger Engineering, Mechanical Engineering


Innovation LLC Microgrant Program Partners
Technology Entrepreneur Center
Department of Residential Life
Microgrant Sponsor
Learn about the 2010 winner of the Cozad New Venture Challenge who is making the Innovation LLC Microgrant Program possible! Read about Matt Gornick of OrangeQC here.



Spring 2021 Innovation LLC Microgrant Winners
During the Spring 2021 semester, four microgrants of $500 each were awarded to residents of Innovation LLC for the purpose of prototyping their project ideas. The winning projects were: Smart Secure, Spider-Sense, FaraBank, and Algal Energy & Limestone Carbon Capture (AELCC).
Past Projects
Miss Possible | Worked on using strong female role models to inspire girls across generations with dolls of real women who did amazing things and fun activities that teach girls about world-changing careers. This team went on to participate in Cozad and a successful kickstarter campaign.
FreeSkies | This team worked towards making aerial data collection simple and accessible to everyone. Drones are incredibly powerful tools, but they are faced with a multitude of problems that are not technological in nature, they're human. It's about the simplicity and the user experience. This team created a mobile app to leverage 3D maps for extremely simple and intuitive path planning. They made collecting aerial data, whether stunning pictures, epic video, or actionable insights for your business, easier. This team went on to be a Cozad New Venture Competition Winner, accepted as a LightSpeed Venture Partners Summer Fellowship 2015, a 2015 Thiel Foundation Summit Pitchoff Winner, a Startup Showcase Winner, Featured on CNBC's Fast Money.
Kofman Technologies | This team designed, prototyped, and successfully tested a proprietary rifle-defeating body armor plate. They also led a team to design and prototype a proprietary modular quadcopter for homeland security applications. This team went on to participate in Cozad as well as iVenture Accelerator.
Ouros Band | Worked to create an improved variant of the current insulin pump, by separating the basic functions of the pump into two parts. The mechanical functions of the insulin pump are relegated to a band located on the upper arm, while the insulin dosages are wirelessly controlled via a wristwatch or application. Combined, individuals with type 1 and 2 diabetes would be able to monitor their glucose level, which also records information pertaining to the patient's condition and treatment. With this design, the Ouros Band oversteps the inconvenience of traditional insulin pumps.
RedC Robotics | Developed a low cost modular underwater robot to meet a wide variety of current and developing needs from industry to military to hobbyist. They worked in the Hydrolab on campus and developed a fully functioning prototype. They also won Best Freshman Team at Engineering Open House that year.
Wireless DMX LED Lighting | This team worked to develop lower cost wireless DMX LED lighting options for use in theatrical and concert settings. They developed a working prototype and utilized their lights in the Illinois Street Residence Haunted House, the Illinois Student Musicals production of Godspell, and as part of a coordinated light show immediately following the Urbana North Carnival that has gotten nearly 7,000 views on YouTube to date and gained the attention of UIUC Admissions and local media.
Hydroponic Vertical Farming System Design | This team utilized the microgrant to purchase materials needed to create a hydroponic growing system. Their project offered sustainable locally grown produce such as tomatoes, strawberries, peppers, lettuce, herbs, and other plants, along with fresh fish, like tilapia, to the Urbana-Champaign area. This was done by using aquaponics, a new form of hydroponics that is more sustainable and efficient.