Innovation LLC Microgrant Program
Advance your ideas with an Innovation LLC Microgrant!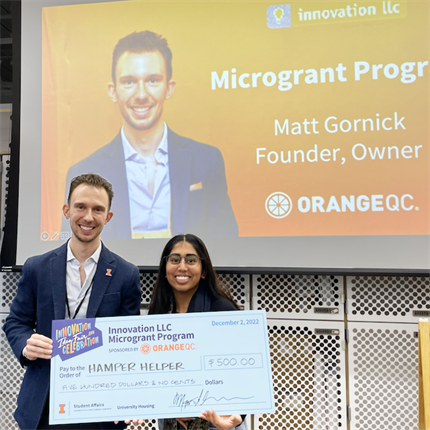 Each year Innovation LLC residents may apply for a microgrant to help move their idea forward. In the application, students share details about their project, what progress they have made to date, and list what prototyping materials they would like to purchase. Students may apply once per semester. Microgrants of up to $500 each are awarded. Innovation LLC Microgrant Program partners are the Technology Entrepreneur Center and the Department of Residential Life.


Fall 2022 Microgrant Recipients

Blip Hip
My idea is a kit that better allows for bikers to attached their helmet to their backpack. As it stands most cyclists are unable to easily carry their helmets after getting off of the bike, this kit is flexible to multiple backpacks and helmet sizes.
Ronan Looney, Mechanical Science and Engineering


Bed Works
Maximize your work productivity and comfort in bed with a flexible laptop stand.
Andrew Jung, Electrical and Computer Engineering
Megan Cheng, General Engineering


Goat Tote
The Goat Tote is a bracelet that transforms into a reusable tote bag. The bracelet discourages the use of plastic bags by offering a convenient alternative.
Calvin Eversmann, Mechanical Science and Engineering


Hamper Helper
The Hamper Helper is a hamper on wheels that includes a push pedal and a scale to show how many loads of laundry they will need to do. The target audience is college students who have busy schedules and a lack of experience doing laundry.
Ishani Patel, Electrical and Computer Engineering
Alexandra Chapman, Social Work


Kid Hub
MAD Solutions
A mattress assist device.
Divij Harg
Ankur Prasad
Maahi Singh


Octopill
A pill box in the shape of an octopus to make it more ascertained to children to entice them to take their meds. Children tend to hate taking pills and this is supposed to just make the process a little less scary.
Diya More, Industrial and Enterprise Systems Engineering
Sanya Jain, Industrial and Enterprise Systems Engineering
Hannah Bartels, Bioengineering
Past Microgrant Projects
Agri-Buddy
A deep learning-based application that uses localized features to predict and prevent crop diseases.
AutoSolder
A system that solders quietly and efficiently, without the use of a soldering iron.
BoxParty
Enabling users to share their top songs to a collaborative playlist to be played in public spaces.
Curie
Curie aims to be different from other clothing companies by producing and altering women's pants that function for everyday use, featuring realistically-sized pockets that solve these problems.
Lite.Tech
We aim to build light, cheap laptops specialized in remotely connecting to and syncing with powerful desktop computers.
Not Your Aunty's Snack
Snacks that combine American favorites with Indian flavors, with products including roti chips, Indian crackers, gur granola bars, and chocolate covered murmura bites.
Scrunchie Hijab
The Scrunchie Hijab is the modern Muslim woman's bridge between daily life and religion, transforming from scrunchie to hijab and back again to offer ease, function, and fashion.
Spotter
An app that shows when gym equipment is in use, helping people plan the best workout time.