ThinkChicago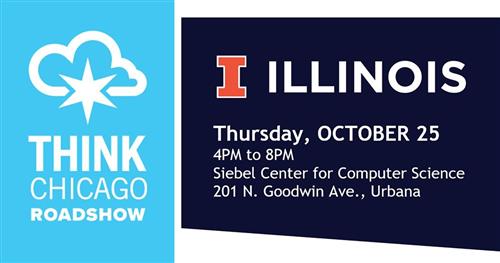 Join us for ThinkChicago: Roadshow on October 25!
About ThinkChicago: Roadshow: Chicago is a place where young entrepreneurs grow big ideas, transform industries and shape technology and business.
As Chicago becomes a national hub for innovation and technology, ThinkChicago brings local leaders together to tell the story of what's growing here and paint a picture of Chicago's future that encourages students to live and work here after graduation.
Led by Mayor Rahm Emanuel with ChicagoNEXT of World Business Chicago, the ThinkChicago: Roadshow brings Chicago's technology and business leaders to visit top business and engineering programs on college campuses across the country, showcasing career-building opportunities within Chicago's vibrant innovation ecosystem. The Roadshow is making its first stop at the University of Illinois at Urbana-Champaign.
Siebel Center for Computer Science | 4 pm - 8 pm | October 25 | Program begins in room 1404
Attendees of ThinkChicago: Roadshow will have the opportunity to attend career fairs, meet Chicago-based businesses, and participate in panels featuring industry leaders and Chicago-based technologists.
Some of the participating companies at this year ThinkChicago: Roadshow includes Cameo, Ocient, Relativity, LifeFoundry,CCC, BMO Harris Bank, and J.P. Morgan. Past participants were exposed to companies like GrubHub, Relativity, Tovala, McKinsey&Company, TastyTrade, Walgreens, Raise and Vibes among many others.
Walk-ins are welcome, but RSVPs are preferred. RSVP on Handshake: https://go.illinois.edu/TCRoadshow2018.