Isolate & Ideate Challenge





Thanks to everyone who participated—it was a blast! Congratulations to the winners:
BEST CAMPUS INNOVATION
Manav Modi | Sophomore | Grainger Engineering
Winning Idea: GrayKea, which is a student-alumni ecosystem that fosters mentorship and reduces student financial stress, by enabling sustainable alumni giving. GrayKea aims to connect students-in-need to alumni through their platform since alumni truly understand what most students face and will be motivated to help.
BEST LIFE HACK
Kavya Sood | Junior | Liberal Arts & Sciences
Winning Idea: OpenIt! Plastic Bag Opening Assistance Device. OpenIt! is a germ free plastic bag opening assistance device that improves grocery shopping experience by alleviating the frustrations of not being able to open produce bags. Throughout this pandemic, the one persistent problem Kavya noticed whenever she went grocery shopping was that people couldn't open plastic bags. Silicone finger covers, with a design similar to infant toothbrushes, are a simple solution to combatting this issue.
BEST PANDEMIC-RELATED IDEA
Dre Abdullah | Sophomore | Division of General Studies
Winning Idea: Project Connect. Project Connect is an app to connect people in need with individuals who can help them with new everyday life during the pandemic. Dre's idea is to create an app that can help in-need groups – especially those who've had trouble adapting to life during the pandemic. Whether it's learning how to use technology, assistance with everyday things like groceries, or just finding someone to talk to, Project Connect is intended to be a service that helps connect these people with others who can assist them.
MOST UNIQUE or WILD IDEA
Tabish Shaik | Sophomore | Grainger Engineering
Winning Idea: Baby Thought Translator. The baby thought translator is the Rosetta Stone for infant interaction, bridging the communicational gap between us and the adorable little humans we call babies. Through machine learning and data mapping, the baby thought translator would allow us to finally understand what the coos and babbles of our tiny humans mean. This product would impact the way we interact with babies by giving us a clear window into how they think.
---
Stuck inside and looking for a challenge? We've got you covered! In light of the recent campus restrictions, we want to offer a fun contest to our students. This is designed to get you to thinking about problems and opportunities facing society today, all from the comfort of your home. We're encouraging students to think about innovative solutions to problems we are all facing right now, especially during this pandemic. These ideas can be simple life hacks or other creative ideas with the potential for commercialization or to become a business.
We are awarding (4) $150 cash prizes* in the following categories:
MOST UNIQUE/WILD IDEA
Do you have a wild idea that has potential to become a business?

BEST LIFE HACK
Do you have a life hack idea that simplifies everyday life, especially during this pandemic?

BEST PANDEMIC-RELATED IDEA
Do you have an idea that would shine during COVID?

BEST CAMPUS INNOVATION
Do you have innovative ideas that would enrich Illinois campus life?

OTHER
Any idea qualifies for this competition, so don't let the categories above limit your creativity!

Schedule of Events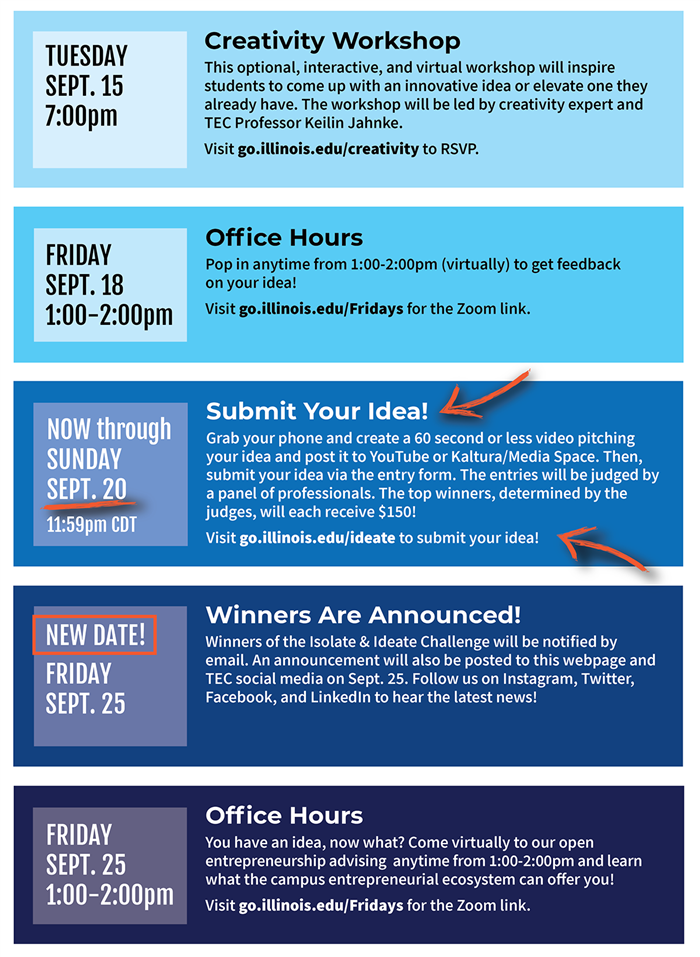 Quick Links
Creativity Workshop RSVP
go.illinois.edu/creativity
Office Hours
go.illinois.edu/fridays
Submit Your Idea
go.illinois.edu/ideate
* Prizes will be deposited into your student account.
Note: These events are open to all enrolled UIUC students (all undergraduate & graduate students). All majors are encouraged to apply!