Workshops & Special Events
TEC Workshops & Special Events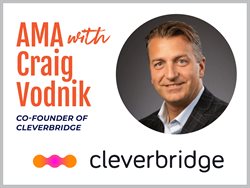 AMA with Craig Vodnik
Wed | Sept 28
Wed | Sept 28 | 6-7:30 pm
Table 1867 in ISR Dining Hall

RSVP

Craig Vodnik, UIUC alum and entrepreneur, will be stopping by ISR to have dinner and conversation. Craig and Sabrina Vodnik generously fund the UIUC AWARE Program. Craig is co-founder of Cleverbridge and a UIUC alum in Nuclear Engineering. Sabrina is the founder of Refined Haystack.
Cleverbridge makes ecommerce solutions for software companies. Craig is passionate about delivering successful customer experience and mentoring the next generation of entrepreneurs.
This event will be catered with a specialty menu, complete with a chef's dessert demonstration. For residents with a meal plan, you will not need to swipe and use a meal credit to enter this event.
Hosted by Innovation LLC & Technology Entrepreneur Center
Tues | Oct 18 | 5-6pm
4100 Sidney Lu Mechanical Engineering Building
RSVP requested but not required.

Why ILEE? Hear from advisers and current ILEE students.
Learn how ILEE can enhance your career and help you gain a competitive edge in the job market.
Ask questions and learn how and when to apply.
Learn about the Innovation Certificate & Technology Commercialization Certificate.
Snacks provided!