9/29/2017 12:01:16 PM
Do you have an idea that you want to bring to life? Are you looking for a space designed creative people like yourself to innovate and work? Well, check out these five labs on campus! All of these places are committed to ensuring that students have somewhere to explore their ingenuity.
1. MakerLab
The world's first business school 3D printing lab is right here at Illinois! This lab is designed to teach users how to design, manufacture, and market physical objects. MakerLab has 20 Ultimaker desktop 3D printers, 3D design software, and 3D scanning devices. They also provide training and custom 3D design and prototyping services. Located in Room 3030 of the Business Instructional Facility, MakerLab allows students to get firsthand experience with some of the industry's top emerging technologies! Learn more and sign up for workshops today!
2. IDEA Lab
Located on the lower level of the Grainger Engineering Library, the purpose for the Innovation, Discovery, Design, & Data Laboratory was described on their website, "The IDEA Lab will provide space and technology for faculty/student collaboration, innovation, and entrepreneurship and will support a wide range of digital scholarship activities. The lab will function as a demonstration and prototype site for exploring the interface between design learning, informatics, visualization, and data analytics." The IDEA Lab includes a visualization wall for high-def presentations, informatics labs, innovator design rooms, collaboration equipment, and more! Learn more about the lab and submit a proposal to gain access here.
3. FabLab
Short for Fabrication Laboratory, the Fab Lab is an open makerspace for the Champaign-Urbana community that's right on campus (adjacent to the ACES library)! Fab Lab is a collaborative space dedicated to computer-driven innovation, design, and fabrication. This space has wide array of fabrication machines such as laser engravers, 3D printers and 3D scanners, digital textile machines, and advanced CAD software. There is also a computer lab and classroom, milling and woodworking, soldering and diagnostics, and electronic cutters. Learn more about their resources and how to use them today.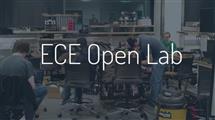 4. ECE Open Lab
The ECE Open Lab is the place for all those students who have a project they want to work on, but may not be an Engineering major. This space provides a 24/7 accessible place for students to develop, build, and more! The ECE Open lab includes wire kits, hand tools, a laser and vinyl cutter, 3D printer, and other tools to help students. Learn more and apply here!
5. CITL Armory Innovation Spaces
The Center for Innovation in Teaching & Learning has now opened their new Armory Innovation Spaces! These high-tech, interactive hubs are designed to give students AND faculty a place to foster their creativity and explore emerging technology. With multiple spaces there are endless possibilities; CITL explained on their website, "The Armory Innovation Spaces include the Illinois Innovation Studio, a 25 seat interactive, visualization space; the Illinois Innovation TechHub, a technology exploration and experimentation space; the Virtual Reality Lab, for research and design of immersive educational experiences; and the Illinois Innovation Classroom, a one-of-a-kind, mixed-seating iFlex classroom for up to 45 students." Students can attend workshops, develop personal projects, and even take classes! Learn more about each space and how to get involved here!