Student Spotlight: Ann Rajan
10/16/2017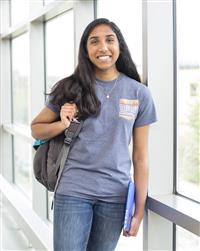 Name: Ann Rajan
Year: Sophomore
Major: Computer Science Major, Applied Statistics Minor
TEC Programs: Cozad, Chicago TEC Workshop, Silicon Valley Workshop
How would you describe your U of I experience in 3 words?
Inspiring, engaging, and thrilling. I've gotten the opportunity to learn from so many accomplished individuals and get involved with different endeavors at the university.
What's one thing that you love about this Campus?
No matter what you're interested in, there's bound to be someone else who has the same interest. The opportunities to find and pursue your passion are limitless.
What is your favorite TEC program?
My favorite TEC program has to be the Silicon Valley Workshop. Not only were all the speakers so inspiring, but the other students on the trip were incredibly passionate and driven. I had a great time learning about different stages of startups, entrepreneurs' personal stories of failure and success, and getting to know the other students.
How would you summarize your experience in Cozad?
Cozad was an incredible experience where I got a lot of insight on the foundation of a good startup. I used to believe that it was all about the product, but there are so many other components that need to be considered as well. I learned so much from the process as well as the other participants of Cozad.
What made you decide to compete in Cozad New Venture Competition?
During first semester, I had the opportunity to build out an idea I had previously along with a few peers. As an all-freshmen team, I was initially apprehensive to compete because I knew I would be competing with many other people with a lot more experience. However, I decided to just go for it and try to learn as much as I could from the process and my peers also participating in Cozad.
What was a highlight of the Silicon Valley Workshop?
I found one of the most inspiring speakers to be Sundari Mitra, CEO of NetSpeed Systems. She was incredibly passionate about technology and entrepreneurship and made it her mission to impact the world. As a fellow Indian female, I could relate with several of her experiences, and it was generally encouraging to see her stand so strong in the industry.
What was a highlight of the Chicago TEC workshop? Or something that surprised you?
I was really thrilled to see so much innovation in spaces in Chicago such as 1871 and Tech Nexus. People don't really talk about too much innovation in Chicago - the default has always been Silicon Valley. However, this trip opened my eyes to see the many entrepreneurial opportunities available nearby.