College Student Holiday Gift List
11/28/2017
It's the most wonderful time of year! The holidays are quickly approaching and everyone is making their wish lists for gifts, along with their lists of people to get gifts for. Do you have friends that you don't know what to get? Do you yourself not know what you even want on your list? Here are some items that every college student will appreciate this holiday season.
1. A New Planner
This is number 1 for me on my wish list! Not everyone has Pinterest-worthy planners, but I know most students prefer writing down their assignments and to-do's, and the best place to write them down is in a planner. There are many options out there, depending on your style. It doesn't need to be expensive, either! The last planner I used and loved I got at Target for $10 – see for yourself!
2. A College Student Recipe Book
Yes, there are specific recipe books for college students. When you're super busy and tempted to just buy McDonalds for dinner instead of cooking but know you shouldn't be spending money, a recipe book comes in handy. One of the coolest recipe books I've stumbled upon is for meals with only 5 ingredients! Check it out here.
3. Wireless Portable Speaker
Since nobody really has a radio anymore and Spotify Premium + Hulu is only $5 for students, you'll want something to play your streaming music on. Sony makes many different styles of wireless portable speakers, and some models are under $30. Check out my pick here.
4. Table Lamp with Wireless Charging
This one's a bit more expensive, but really awesome. It's a table lamp that doubles as a wireless
charger for your phone! You can leave your phone on the base of this lamp and let it juice up while you're studying. Ikea makes a few different models, and you can check them out here.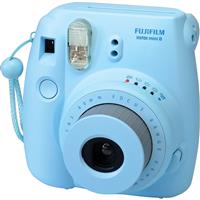 5. An Instant Camera
Instant cameras are coming back! There are many different colors and models of the new Fujifilm Instax instant camera, but they all do the same thing. If you ever had a Polaroid camera when you were younger, this is the next generation of it. For vintage and camera lovers alike, and instant camera is a great gift option for the average college student.