Illinois I-Corps
Contact Info
Jed Taylor
Executive Director
Technology Entrepreneur Center
217-244-4035

jedt@illinois.edu
About NSF I-Corps
National Science Foundation's (NSF) Innovation Corps or I-Corps is a public-private partnership program that teaches university faculty and student entrepreneurs with a targeted curriculum to identify valuable product opportunities that can emerge from academic research, and provides entrepreneurship training to participants.The Illinois I-Corps Site is a collaboration between the Technology Entrepreneur Center in the College of Engineering, EnterpriseWorks at the Research Park, with participation from the Office of Technology Management, and IllinoisVentures.
I-Corps at the University of Illinois at Urbana-Champaign
Faculty and students working on STEM-related technology can participate in the I-Corps program and receive up to $2,000 to participate in the customer discovery process of their innovation. The Illinois I-Corps Site offers 4 cohorts a year (2 per semester) on a rolling submission application cycle. Each team is supported with an I-Corps grant of up to $2,000 to cover travel and prototyping costs. The program consists of 3 workshops over 6 weeks, where teams work to validate the market size, value propositions, and customer segments of their innovations.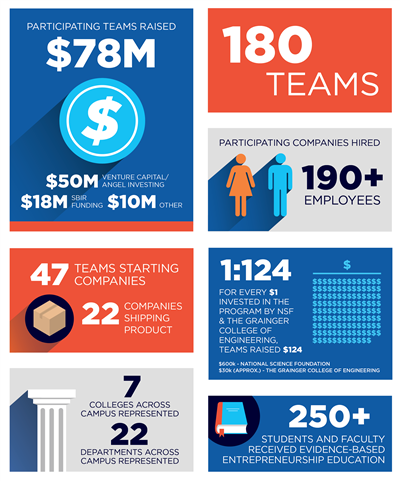 Upon completion of the program, teams are in position to apply to the National I-Corps program where they receive $50,000 dollars and participate in a rigorous 7 week program, or perphaps apply for an SBIR award.
Students are also encouraged to participate in one of the many Technology Entrepreneurship courses on campus that offer the I-Corps methodology, including TE 250: From Idea to Enterprise which was developed based on the I-Corps program.
Benefits of Participating in the Illinois I-Corps Program
There are many benefits from participating in the I-Corps program, including:
Mentoring from local experts
Validation of Market Size, Value Proposition, Customer Segment
Engage with campus entrepreneurial ecosystem
Seed Funding (up to $2k)
Opportunity to be referred to the $50k NSF National I-Corps program
NSF I-Corps curriculum based on the Lean Launchpad methodology
Dramatically improving chance for equity free funding:

SBIR Phase 1 ($225k)
SBIR Phase 2 ($750K)
SBIR Phase 2B ($500K)

Cohort Schedule & Application Deadlines for the Illinois I-Corps Site
Cohort #25
Applications are accepted on a rolling basis | APPLY
Class Meeting Schedule (all classes meet 10:00am-12:45pm)

Wed., Sept. 4, 2019
Wed., Sept. 18, 2019
Wed., Oct. 2, 2019
Cohort #26
Applications are accepted on a rolling basis | APPLY
Class Meeting Schedule (all classes meet 10:00am-12:45pm)

Wed., Nov. 6, 2019
Wed., Nov. 20, 2019
Wed., Dec. 4, 2019
Site Leadership