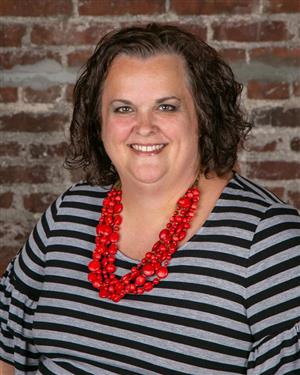 Director, Hoeft Technology & Management Program, & TEC Lecturer
Samantha Koon is a marketing communications professional with a passion for entrepreneurship. She serves as the Director of Communications for Illinois Extension, where she manages a team who focuses on expanding the reach, impact, and visibility of Extension programming across the state. Samantha also teaches several courses at the University of Illinois, focusing on entrepreneurship, innovation, and communications. She has nearly 20 years of experience in a variety of roles in the non-profit and higher education sectors.
Samantha also owns The Zybell House, a historic boarding house and vacation home, and the Greenhouse Café, a small coffee shop and cafe at Allerton Park and Retreat Center. These ventures have allowed her to continue a family tradition of entrepreneurship and to fill several unmet needs in her local community.
A native of Wolcott, Indiana, Samantha both studied and worked at Purdue University, earning undergraduate and graduate degrees from Purdue and an MBA from Indiana University. She lives in Monticello, Ill., with her husband and daughter.
Biography
Samantha Koon is an experienced marketing and communications practitioner, educator, and entrepreneur. She currently runs two businesses in Central Illinois and works on consulting projects for clients with marketing, strategic planning, and training needs. Samantha has nearly 20 years leading the marketing and communications function for several non-profit and higher education organizations. Her areas of expertise include market analysis, strategic planning, corporate communications, and marketing execution for products, events, and causes. Samantha frequently leads workshops and conference sessions on marketing and strategic planning topics. She has also been affiliated with the University of Illinois Agricultural Communications faculty for several years.
Recent Courses Taught
AGCM 315 (ADV 315) - Emerging Media
AGCM 430 (SOC 464, ENVS 430, NRES 430) - Comm in Env Social Movements
BADM 261 (ENG 261) - Technology & Mgmt Seminar
BUS 199 - T&M Internatl Bus Practices
TE 200 - Introduction to Innovation
TE 360 - Lect in Engrg Entrepreneurship