Featured Courses | Fall 2022
And, check out our summer courses! TE461 - Technology Entrepreneurship, TE466 -High-Tech Venture Marketing, TE565 - Technology, Innovation, & Strategy, TE566 - Finance for Engineering Management, and TE567 - Venture Funded Startups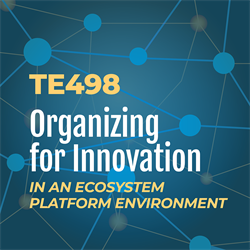 NEW! TE498 – Organizing for Innovation in an Ecosystem Platform Environment
3 credit hrs.

Companies must grow to survive over the long term. Innovation is the lifeblood of growth in corporations and startups. But innovation is arguably the most difficult thing an organization can try to do. This course is intended to provide a working understanding of the toolsets and structures that support profitable growth through managing an innovation portfolio.




TE100 – Introduction to Innovation, Leadership, and Engineering Entrepreneurship
1 credit hr.

Students will learn about innovation, identify key attributes of innovation leadership, and practice innovation leadership personally and professionally. Students will identify opportunities and work in teams to address them, practicing leadership and followership and honing their written and verbal presentation skills. Students also complete a personal plan for continuing to develop their innovation leadership skills. Open to all majors.
TE200 – Introduction to Innovation – Just for Innovation LLC Residents
1 credit hr.
Learn about innovation, identify key attributes of innovation leadership, and practice innovation leadership personally and professionally. Identify opportunities and work in teams to address them, practice leadership and followership and hone your written and verbal presentation skills.




TE230 - Design Thinking/Need Finding
3 credit hrs.
This course focuses on user-oriented, collaborative approaches to design and seeking holistic solutions integrating user and functional perspectives. The importance of process and the development of strategies is emphasized. Students observe and engage others to develop a deep understanding of their values and the patterns of their lives. They work collaboratively in a studio environment to create a shared understanding of the people they design for (and with) and the product ideas they develop. Topics covered include design thinking, ethnographic methods, concept development and interaction design. This course offers an intensive design and team work experience, focused on understanding customer needs.
TE250 – From Idea to Enterprise
2 credit hrs.
Examines the fundamentals of technology entrepreneurship and addresses critical areas of the entrepreneurial process such as: problem and solution identification; validation of product-market fit; market assessment; team formation; product development; intellectual property; financing a technology-based startup. This class combines lecture, discussion & case studies, and is built around a hands-on group project leveraging the lean startup methodology from the National Science Foundation I-Corps program. The class is intended for all students of all disciplines interested in technology entrepreneurship.
TE333 – Creativity, Innovation, Vision
4 credit hrs.
Personal creativity enhancement via exploration of the nature of creativity, how creativity works, and how to envision what others may not. Practice of techniques and processes to enhance personal and group creativity and to nurture a creative lifestyle. Application to a major term project providing the opportunity to move an idea, product, process or service from vision to reality.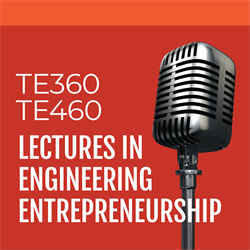 TE360/460 – Lectures in Engineering Entrepreneurship
1 credit hr.

Hear from a different guest speaker each week! Entrepreneurs and innovators will speak about a variety of topics including evaluation of technologies and business ideas in general; commercializing new technologies; financing through private and public sources; legal issues; product development; marketing; and more.
TE401 – Augmented Listening and Audio
1-4 credit hrs.

Interested in audio, signal processing, hearing aids and listening tech, embedded hardware and software, industrial design, VR/AR and more? You can pursue individual research in a variety of fields in this project based course. If interested, please contact Ryan Corey at corey1@illinois.edu.

TE450 – Startups: Incorporation, Funding, Contracts, & Intellectual Property
3 credit hrs.

Explores how legal tools may be used in the construction and successful operation of your company to deliver the next great product to market. Topics covered in the class include: issues with business formation, funding, intellectual property, non-disclosure agreements, contracts, and other corporate legal issues particularly impacting startups.




TE461 – Technology Entrepreneurship
3 credit hrs.

Critical factors affecting technology-based ventures: opportunity assessment; the entrepreneurial process; founders and team building; preparation of a business plan including market research, marketing and sales, finance, and manufacturing considerations. Students must have an idea for a new venture to participate in the course, and must be prepared to develop this new venture idea as part of the course.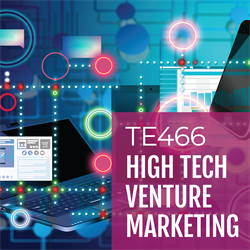 TE466 – High Tech Venture Marketing
2 credit hrs.
Cornerstone marketing concepts for innovators and engineers to enable analysis of products and technologies from a marketing perspective: engineering product development and adoption life cycle; objectives and strategies; marketing management; communication skills; sales process and tactics; special considerations for new high-tech engineering products and innovations.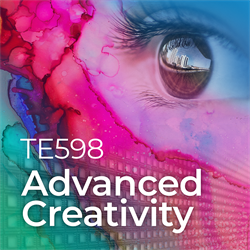 TE510 – Advanced Creativity
4 credit hrs.

Exploration of concepts and theories in creativity and innovation with application of techniques and processes in order to enhance creativity. Emphasis on personalized learning objectives based on individual fields of study culminating in a major project with the opportunity to move a technical idea from vision to reality.




TE565 – Technology, Innovation, & Strategy
2 credit hrs.

Concepts and frameworks for analyzing how firms can create, commercialize and capture value from technology-based products and services. Business, commercialization, and management aspects of technology. Emphasis on reasons that existing firms or startups which have successfully commercialized products or services fail to sustain their success as technology changes and evolves. Restricted to grad students.



TE566 – Finance for Engineering Management
2 credit hrs.

Cornerstone financial concepts for engineering management to enable analysis of engineering projects from a financial perspective: income statements; the balance sheet; cash flow statements; corporate organization; the time value of money; net present value; discounted cash flow analysis; portfolio theory. Restricted to grad students.




TE567– Venture Funded Startups
1 credit hr.

Concepts, tools, and language used by venture capitalists (VCs). Venture-scale opportunity assessment and articulation; venture capital financing and valuation; deal structure; term sheets; financial plans for startups; customer development and marketing; product iterations; sales execution. Restricted to grad students.



We're Here to Help!
For questions about TEC courses, certificates, or the ILEE BS Dual Degree, please contact us at the following email address or phone number.
Email: tec-ilee@illinois.edu
Phone: 217-244-3124