SocialFuse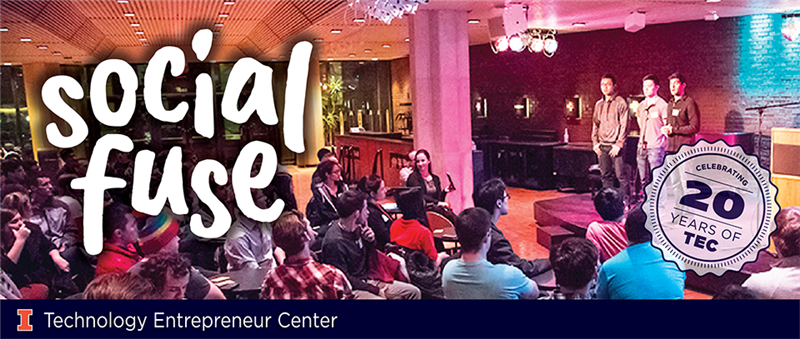 Meet your next co-founders at SocialFuse!
About SocialFuse
Do you have the next big idea but need people with the skills to execute? Do you have skills like business management, programming, or designing and want to join a team? Are you just interested in entrepreneurship, developing an entrepreneurial mindset, and want to meet a group of cross-disciplinary people? Join us for SocialFuse!
SocialFuse is a recurring pitching and networking event that takes place during the Fall and early Spring semester. It brings students, faculty, and community together from a variety of majors and backgrounds to share their skills, ideas, and entrepreneurial ambitions. Attendees can pitch their startup ideas, find teammates, improve pitching skills, and get feedback. The event begins with a round of short pitching and idea sharing followed by informal networking. Make your idea a reality at SocialFuse!
**Food is provided.
Registration For General Attendance: ALL are welcome to attend. RSVP for general attendance is appreciated for planning purposes.
For Those Pitching: Registration is mandatory
Registration is mandatory to pitch. If you are selected to pitch, you will be notified via email with more details. You must arrive 15 minutes prior to the event start time to check in. If you are not checked in by the start of the event, your pitching slot will be given away. Up to 20 teams are selected to pitch; you will receive an email if you are selected, however, late entries may be added pending availability.
Find matches in skills and startups before and after SocialFuse:
Have a startup?: If you have a startup idea and need to build your team with specific skills, click here to tell us about your idea and what skills you are looking for to add to your team.
Have a skill?: If you have skills and want to join a startup, click here to tell us about the skills you have and what kind of team you want to join.
Look for a match!: After telling us if you are looking for skills or a startup (see above), click here to search through the list of those who have submitted skills and startups looking to match up.