SocialFuse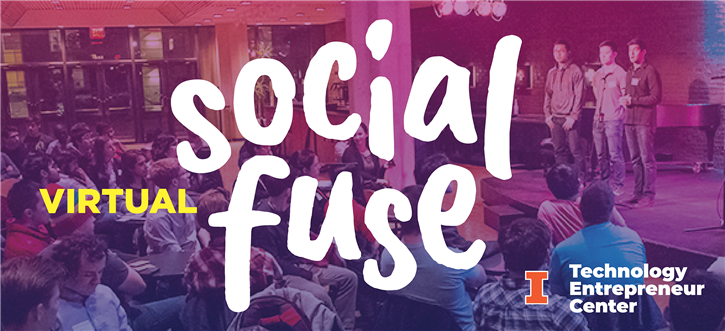 Thank you for everyone that joined us on Thurs., Oct. 15!
Next SocialFuse: Nov. 18 | 5:00-6:30pm
Looking for teammates to move your idea forward? Make your idea a reality at SocialFuse: a recurring pitching and networking event for you! Come pitch your ideas, find teammates to scale your startup, or just sit back and check things out.

Connect with Startups that Pitched on Oct. 15

ACAPALA | Tianle Liu | liutianle@uchicago.edu
University of Chicago
Pitch:
Seeking:

Atante | Lucas Najera | lucasnajera@uchicago.edu
University of Chicago
Pitch:
Seeking:

Ascent Integrated Tech (AIT) | Paul Couston | pcousto2@illinois.edu
University of Illinois
AIT is building human augmentation technology for workers in extreme environments. Our first product is a high-tech mask that protects the user while also enhancing their perception with actionable alerts, step-by-step instructions, and new ways to communicate.
Seeking: Developers (Front-End, Back-End, and Full-stack Developers, UI/UX Designers) and Engineers (Mechanical, Electrical, Industrial, Embedded Systems)

Bubbles | Rohan Sreerama | rohans5@illinois.edu
University of Illinois
Bubbles is a seamless online meeting experience built directly on top of Zoom that allows attendees to view all their ongoing meetings at a glance, have access to rich insights before entering, and even be in two places at once.
Seeking: We are looking for students with experience in Software Engineering, UI/UX, and Business Development. More than anything, we are looking for people who understand and enjoy working with our product with a passion to learn and push the Bubbles vision forward.
Campus Casts | Josh Moore | jcmoore2@illinois.edu
University of Illinois
Campus Casts is designing detailed 3D models of college campuses for decoration on desks and walls.
Seeking: 3D-Modeling, Online Business Skills

CoinFunding | Jay Liu | jianjul2@illinois.edu
University of Illinois
CoinFunding seeks to eliminate cumbersome coin handling and maximize coin impact.
Seeking: Marketing and Business Partnership

Embedder | Xander Arnao | arnaoz@uchicago.edu
University of Chicago
In order to make early career learning easier for college students, Embedder will use matching algorithms to connect students with professionals and intelligent software to teach relationship-building skills.
Seeking: Marketing, Sales, Finance, and Education

EnerZ | Arpit Dwivedi | dwivedi4@illinois.edu
University of Illinois
Sun doesn't always shine and wind doesn't always blow so we store renewable energy for making the world's clean energy transition possible.
Seeking: Chemical, Mechanical Engineers or anyone passionate about clean energy.

Equability | Hilary Pham | hhpham2@illinois.edu
University of Illinois
Equability is a clothing modification service that changes the challenging features of clothes to help people with disabilities.
Seeking: A Partner with Finance/Accounting, Marketing, or Fashion Industry experience or a short term partner with Sewing experience.

Folios | Matt Zhou | matthewzhouhaochun@outlook.com

IlliniBox | Justin Holding | jholdi2@illinois.edu
University of Illinois
Illini Box is a reusable takeout container system that promotes sustainability, cost savings, and customer loyalty.
Seeking: Marketing, Sales, Logistics, App & Website Development or anyone interested in Sustainability!

Meliora Disinfecting | Jack Goodkin | jackgoodkin@uchicago.edu
University of Chicago
Meliora Disinfecting is a service disinfecting company that provides affordable and high-tech disinfecting solutions to commercial properties.
Seeking: Teammate to specialize in Marketing, Front-end Development, and Design

Not a Restaurant | Ramky Mantha | rmantha2@illinois.edu
University of Illinois
Not a Restaurant is a 2-way mobile market-place, connecting foodies looking for authentic, native, different food beyond restaurants with chefs cooking in commercial and home kitchens. Customers can search, order, and pay from app. Businesses offer pick-up, self-delivery, and shipping (some products).
Seeking: Customer Research, Concept & Branding, UI/UX, Flutter mobile app development, aws (Amazon Web Services ), Micro Services Architecture and Development, Payment Platforms (Stripe)

PocketTask | Marie-Liesse Gouilliard | mgouilliard@mypocketask.com
SmartForms | Sreyas Agarwal | sreyasa2@illinois.edu
University of Illinois
Pitch:
Seeking:

Tavo | Tadas Kunickas | tadask2@illinois.edu
University of Illinois
Pitch:
Seeking:

Vertical Grooves, LLC | Tony Vitale | verticalgrooves@gmail.com
The "Classic" Floating Record player offers a small footprint vertical turntable for vinyl music enthusiasts that not only want to make the best use of their space but, hear... and see... their music.
Seeking: Passion, genius… and the love of vinyl. And Marketing.
---
Details about Pitching
Up to 20 teams are selected to pitch; you will receive an email if you are selected, however, late entries may be added pending availability.
Looking for tips to pitch your startup at SocialFuse? Learn more here.
Find matches in skills and startups before and after SocialFuse
Have a startup?: If you have a startup idea and need to build your team with specific skills, click here to tell us about your idea and what skills you are looking for to add to your team.

Have a skill?: If you have skills and want to join a startup, click here to tell us about the skills you have and what kind of team you want to join.

Look for a match!: After telling us if you are looking for skills or a startup (see above), click here to search through the list of those who have submitted skills and startups looking to match up.