Cozad New Venture Challenge
Thank you to everyone who joined us for the Cozad New Venture Challenge Awards Ceremony on April 14! Congratulations teams!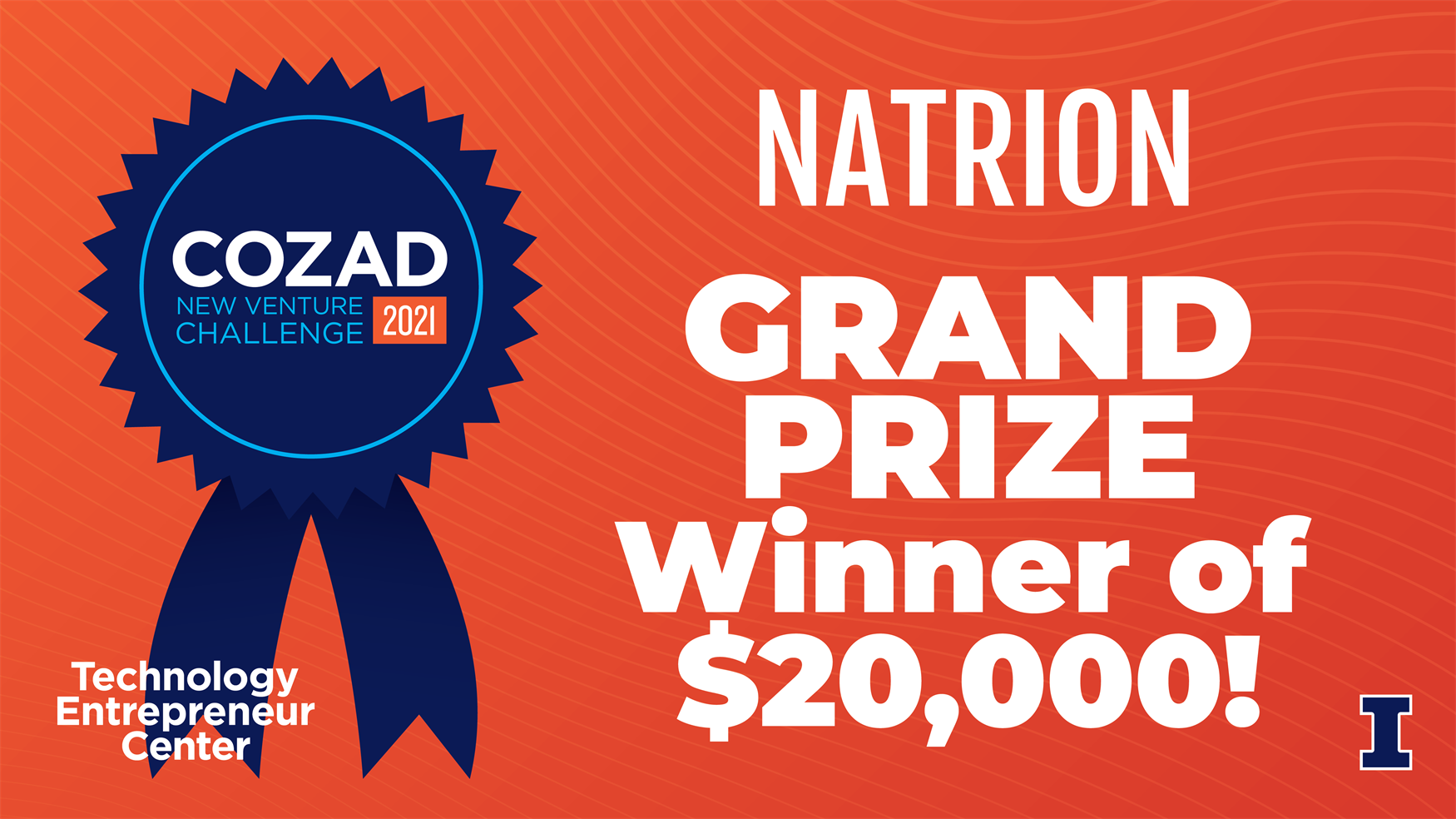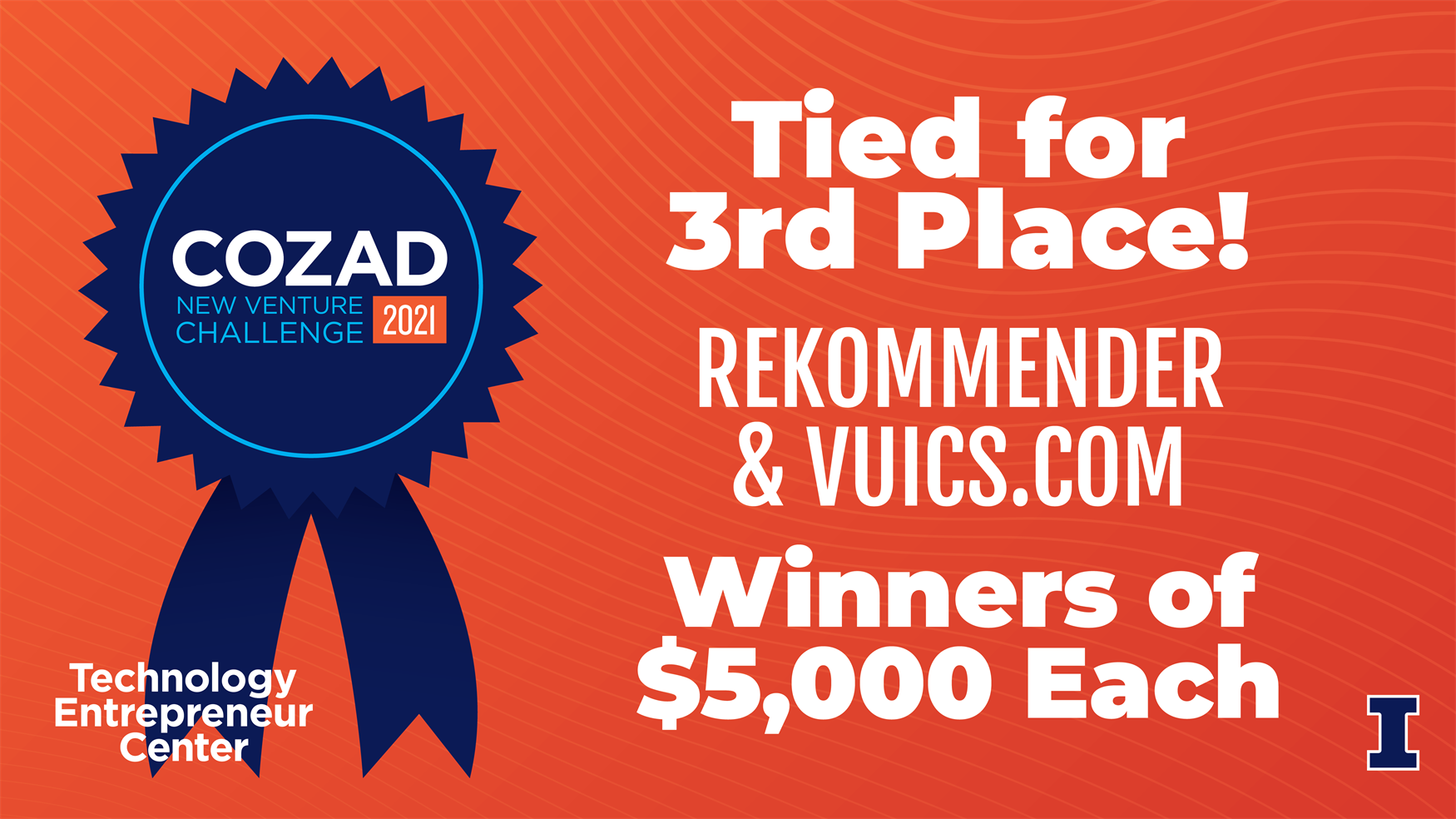 Read more about 2021 Grand Prize Winners, and dozens of other prizes winners here!
About Cozad
Have a startup idea? Want to launch a company? Take the Cozad New Venture Challenge to accelerate your idea with funding, mentoring and more! The campus-wide Cozad New Venture Challenge, held annually since 2000, is designed to encourage students to create new businesses. The competition provides mentoring to teams through the phases of venture creation; and workshops on idea validation, pitching skills, and customer development. In 2019, teams competed for over $250,000 in funding and in-kind prizes. The awards are funded through sponsorship, alumni donations, and campus partners.

All teams who meet the requirements of the Cozad New Venture Challenge, including submitting all mandatory deliverables and meet attendance requirements, have the opportunity to compete in the Showcase & Finals Event in April. Students will get to showcase their ideas to venture capitalists, early-stage investors, and successful entrepreneurs who serve as judges. The judges determine which teams move on as finalists, which present their ventures at the finals event in the afternoon. NOTE: Forming a team is not required; students may participate on their own.
Cozad 2021 Teams
1st WRLD (2162) | A clothing company that markets American streetwear fused with Ghanaian fabrics to U.S. consumers in order to give share of profits to Ghanaian communities.
Agriwater (2142) | Agriwater's smart, clean water technology is a device that purifies and monitors the most polluted water empowering farmers in real-time to track, visualize and store turbidity, pH, and temperature via IoT enabled sensors that communicate data to the AI Cloud.
AIDataPump (2123) | Intelligent Data Ingestion and anomaly detection. This tool provides flexibility to use standard and customized ingestion patterns. Know your data when ingestion happens. Orchestrate transformation and create data lineage automatically. If you have quality data, you can get quality decision.
Assignment Intelligence Tool (2166) | Speech-to-text (STT) capability integration for online assignment submission portals providing an alternate method for submitting assignments.
Automatic Utensil Dispenser Project (2173) | We are providing a hands-free method of distributing utensils for college students at dining halls. These customers care about convenience, waste, and safety. Our tech allows students to quickly get only the utensils needed, and is hands-free to address student concerns about the COVID-19 pandemic.
Bubbles (2103) | We provide a simple UI with intuitive classifiers for event organizers to create events that truly make the attendees feel as though they've been a part of something worthwhile.
CamUX (2167) | We are developing an eye-tracking wearable to give people with upper functional limitations real access to the internet.
Carnot (2155) | Heat battery for storing renewable electricity and provide renewable heat to industries which will enable world's transition to clean energy and make clean energy accessible to everyone
Cocoon (2121) | We are an augmented reality and 3D modeling service for online shoppers to better find their size, while also collecting data to help better the supply chain process and manufacturing process.
CoinFunding (2115) | To eliminate the cumbersome coin handling and maximize coin impact. CoinFunding is to provide a convenient and rewarding experience for cash users. It generates a potential $2 billion investment flow for community initiatives per year with a $300 million untapped revenue source.
COVID Aerosol Detection Device (2122) | the COVID Aerosol Detection Device is a handheld air sampling device for use by anyone who is concerned about indoor exposure potential to COVID.
Cyvil (2151) | We are building a monitoring overlay for businesses to use with professional messaging platforms that promotes inclusivity in the workplace by preventing verbal harassment and microaggressions in text.
Dinjadoo (2107) | I am building an accent modification app to help people master phonologies of languages around the world for reasons from connecting with their heritage to immersing in a different culture.
Docudio (2130) | Provide an online documentation studio to comprehensively document IT Systems for small to large businesses, and individuals with complex IT Ecosystems, so that they can provide a simplified and easy to review overview of their systems to their leadership and coworkers who rely on the information.
EasyDev (2114) | EasyDev is an intuitive website development tool for websites. Through a series of questions, small businesses can produce websites with minimal effort and maximum functionality to captivate more customers.
Eclectic (2158) | Eclectic is a multifunctional fashion app that acts as a digital closet keeper, outfit creator, and a personalized shopping experience where users can discover new brands relevant to them.
EpiCap (2170) | A stylish baseball cap with EEGs powered by AI to clinically diagnose patients with suspected epilepsy as they go about their daily living, no longer needing to be confined to the hospital for a week.
Equability LLC (2127) | Change clothes so people don't have to; we modify clothes so that no one has to change their lifestyle or clothing style because of their disability
FastTrack (2154) | FastTrack is the modern music artist's key to success; a team-building marketplace platform with no strings attached. By connecting artists with professionals' feedback and services, our specialized collaboration tools help propel artists' music and brands towards success; a modular record label.
Glide (2150) | Glide is a cost-efficient, wearable adhesive device that attaches to your skin. When activated, the device mainly serves as an emergency button that alerts 3 approved contacts that the person wearing the device needs help or assistance.
Grasp (2105) | We are a web-tech startup that closes the comprehension barrier found in research papers. Users will submit research papers to be made easier to understand or browse a collection of "grasped" papers. This will allow users worldwide, with a decent English level, to understand any research paper.
GrayKea (2156) | Student-alumni ecosystem that fosters mentorship and reduces students' financial stress due to tuition by enabling personalized and transparent alumni giving.
Hang (2113) | Hang is an app where urban, high-spending 18-30 year olds can quickly and easily list fun, spontaneous social outings for other users to join. Hang is also an advertising channel that optimizes for getting customers into local businesses' doors by advertising them to users as outing destinations.
Haylon Technologies (2134) | We design smart batteries, leveraging different charge methods and battery chemistries to create hybrid batteries with faster charge times and more versatile functionalities for users of consumer electronics and their manufacturers.
Illini Box (2153) | Reusable takeout container system that promotes sustainability, cost savings, and customer loyalty.
Illinois Package Less (2147) | A website to allow consumers to place orders from multiple online e-Commerce websites and get them delivered in a single package to reduce use of packaging materials.
Invedu (2144) | Invedu is a platform that specializes in supporting students with tuition funding through crowdfunded income share agreements.
Island Link (2161) | Island Link is a delivery drone manufacturer that designs and assembles fixed wing delivery drones with the aim of solving medical logistics limitations faced by Geographically Isolated and Disadvantaged Area in Asia.
Job Search Squad (2108) | Job Search Squad helps job seekers search network and get their foot in the door!
kaksha.ai (2160) | We build AI solutions curated for online educators to help them reach their true potential by providing personalized learning experiences for their students.
Karma Trade (2102) | Karma Trade is a zero waste clothing swap service that allows you to receive equal value fashion for your pre-loved clothing.
Laboratory for Acoustic & Soundscape Ecology (LASE) (2137) | Study boundaries of ecoacoustics and construct an array of acoustic environmental sensors for monitoring, researchers, and student citizen scientists. All contribute to global and local conservation as we navigate the Anthropocene; land use change, and diversity/habitat declines.
ManyCop (2140) | I make scripts for people trying to get limited release items.
MiniHaven (2135) | We connect people to their favorite places through detailed models.
myHealthCurator (2171) | Consolidate all medical records across various platforms, regions and hospital systems from a timeline of their choice for all patients and authorized caregivers across the US which saves significant time and reduces hassles of record management resulting in potentially life saving opportunities.
Nano Guard (2164) | We would provide you masks that properly protects and fits you rather than only mainly protecting others, through self-cleaning tri-action anti-viral nano technology.
NASADYA (2145) | NASADYA solves the problem of variability management in the energy grid for power plants by converting a money-losing by-product, excess energy, into money-making co-products, hydrogen & oxygen.
Natrion (2126) | Natrion engineers and manufactures advanced batteries and battery components that make renewable energy and hybrid power systems safe and cost-efficient for homes, businesses, and the defense industry.
Neo Vista (2148) | We are building next generation of digital frames that are intelligent, sustainable and user-centric
Omniparity (2138) | We provide a recruiting platform for women to find the exact job they need based on their interests and experience, not their education, and we provide recruiters the most specific potential employees for their job opening.
OpenIt! (2163) | OpenIt! Is a plastic bag opening assistance device that improves the grocery shopping experience by decreasing time spent on opening plastic bags in addition to increasing accessibility for vulnerable audiences. A design similar to infant toothbrushes makes OpenIt! easy to disinfect and reuse.
Personalized Yoga (2169) | I want to build an App where yoga players can choose any yoga teacher they want and purchase her/his live class, and get personalized training in the app. There are so many similar apps in the market, but they don't provide second income/platform for teachers nor personalized classes for players.
Phantom Pedal (2104) | Phantom Pedal is developing a bicycle to enable adaptive cyclists with a unilateral major lower limb amputation to naturally ride farther, longer, and easier using an asymmetric E-bike assist system.
Picture Yourself as a Scientist (2129) | Creating graphic stories about female in sciences and technology for girls to learn and explore career options
Pride (2106) | Watch your prides' backs with out paying each other constant attention.
Racaan (2111) | An online platform that provides turn key solution(equipments, knowledge base and crop marketplace) to grow carbon neutral seaweeds on USA coastlines.
ReKommender (2141) | Leverage AI for HR recruitment professionals to significantly reduce their efforts for shortlisting candidates for the roles, automating their candidate engagement efforts to improve their focus on ensuring right candidates are quickly shortlisted, get interviewed & join the organization.
Revery.ai (2119) | Revery provides a virtual try-on API service to fashion e-commerce platforms, which enables shoppers to visualize any outfit combinations on various fashion models, increasing engagement for shoppers and conversion rates for businesses.
Serene Stay (2165) | Serene Stay works on a simplistic mechanism to turn COVID-19 patients in intensive care on their sides without the need of medical personnel to manually turn the patients with force.
Shoe LockR (2110) | My company, ShoeLockR, is developing a shoe storage solution that sanitizes shoes in order to reduce unhealthy bacteria populations and associated odors to help athletes and people with strong foot-related odors by integrating UV-C light technology with traditional shoe organizers.
Single Action Needles (2157) | We are creating a biodegradable single use needle to help cities and people suffering from drug abuse by limiting the spread of blood borne illnesses and the number of dangerous sharps on the streets.
Smart Shopper (2149) | My company is developing a mobile app called Smart Shopper to help grocery stores minimize COVID-19 exposure and increase customer flow by optimizing customer's grocery list by track the location of each item in the store so customers are able to pick up their items in the most efficient path.
SmartForm (2112) | SmartForm is a gym trainer and a sport coach in a mobile app that uses the phone camera to provide real-time posture feedback to people exercising or playing a sport. It helps users workout efficiently while minimizing risk of injury.
Snooper Booper (2139) | We are developing a phone based application that can identify lost dogs and help them return home without the use of microchips or other hardware.
Solotus (2132) | Solotus makes a modern hydrogel-based solution addressing a range of dermatological and critical care medicine purposes for first responders and deployed military members through novel materials and integrated biometric sensors which reduce recovery time and prevent secondary illnesses.
Solving the Social Dilemma (2136) | I strive to create a better form of social media to stay in touch with people without targeted/suggested ads and content, the sale of people's personal information, profit-driven behavior control, and so forth.
Synthesize (2152) | Music synthesis platform for fans to collaborate with their favorite artists.
TAVO (2109) | Reinventing the alarm clock
TeamOpt (2131) | TeamOpt is a virtual engineering company that delivers engineering design projects by forming short-term virtual engineering teams of freelancers.
The Neck Saver (2143) | We are creating a gyroscopic non-intrusive ear mount that detects the user's neck angle of flexion. It is for people who look down when working. It matters because neck pain is common among students and office workers, and being alerted about bad neck posture can help improve it.
Thotspace (2146) | Thotspace is a mindful media-sharing platform fundamentally built to put social media users first. With a sustainable human-centered approach, we leverage psychology and AI to encourage mentally healthy and mindful social media behavior, allowing users to connect deeper, learn faster, and grow more.
Tobi (2101) | peer-to-peer learning platform where learning comes from teaching.
Uchange Scholars (2118) | We are a non-for-profit mentoring organization that connects underrepresented high school students with college students for one-on-one assistance with the college application and decision process.
Vane-Tech (2124) | Vane is the modular and comprehensive solution to the drawbacks of current consumer box fans. With a Vane, individuals can comparatively achieve a more direct and efficient cooling effect versus other options all at a competitive price.
Vigilance AI for Elderly Care (2159) | Leverage AI for remote monitoring and providing care for elderly patients, protecting them from emergencies and enabling quicker response from guardians to situations like physical impact, abnormal situations, delirious behavior, monitoring health situations, while respective their privacy.
VISTA (2128) | We utilize low cost LiDAR technology to create a highly detailed map, which would enable people with disabilities or mobility restrictions better access to public spaces via a guide to the safest and most accessible way there.
vrtumind (2117) | vrtumind is a mobile app that uses a reinforcement learning-based recommender system to prescribe students the subclinical mental health exercises that help them the most.
Vuics.com (2125) | Siri for your website
Wisur (2172) | We want to bring intelligence into people's homes through providing smart interior decor empowered by IoT.
Women's Digital Health (2133) | Building an accessible, effective and affordable app based service to help women address chronic conditions and to improve their overall health and well being. I am helping women taking charge of their health outcome by using tools such as education, motivation and community support.
Yumtrail (2120) | Yumtrail connects customers to new restaurants like how dating apps connect people to meet each other
Recent Success Stories from Past Cozad Participants