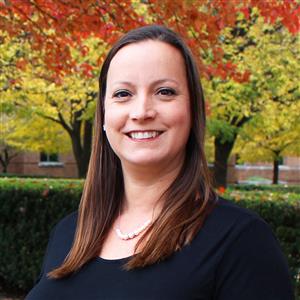 Associate Director of Innovation & Entrepreneurship Student Programs
349 Coordinated Science Lab
1308 W. Main St.
Urbana 61801
(217) 265-5456
Stephanie Larson is the Associate Director of Innovation and Entrepreneurship Student Programs at the Technology Entrepreneur Center. She joined TEC in March 2008, and her responsibilities include leading, building, designing, and implementing new and existing student programs for TEC and its mission of providing students with the skills, resources, and experiences necessary to become successful innovators, entrepreneurs, and leaders. The thing she enjoys most about working at TEC is the passion the students and her co-workers share about entrepreneurship and innovation.

Prior to working at TEC, Stephanie worked on numerous grassroots marketing and event marketing campaigns. She even spent a year of her life driving a giant 22 foot Pepperidge Farm Goldfish Mobile from coast to coast. She worked with many clients such as Kellogg's, Nike, Florida Department of Citrus, Home Depot, Kraft Foods, Cadillac and Sprint in a variety of marketing capacities. She also worked for a startup branding agency in Chicago as an Account Supervisor on the Yellowtail Wine account and a mid-size marketing firm in Chicago as a Project Manager on Motorola Mobile Device projects.

Stephanie graduated from the University of Illinois in 1998 with a B.S. in Advertising & Communications.

In her spare time, Stephanie enjoys reading, exploring different culinary cuisines, travel, movies, arts and crafts, and is also learning the joy of gardening. In 2015, she joined the Monticello community with her husband, Scott and their sons, Ander and Atwood and their most recent addition to their family, Freya.
For more information
Recent Courses Taught
ENG 200 (TE 200) - Introduction to Innovation