Hashtagr: Your SOCIAL Search Engine
Hashtagr, created by founders Saagar Gupta and Dennis Leancu from the University of Illinois at Urbana-Champaign and DePaul University student, Khoa Nguyen, is a search engine toolbox that accumulates various posts from social media sites such as Facebook, Twitter, Instagram, Vine, Google+, and Tumblr into a simple and easy to use platform.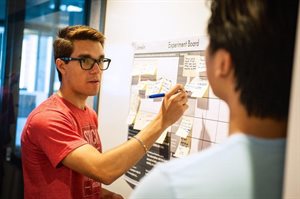 Hashtagr's core search engine was first launched in August 2013 and with additions made to their program, the cross-program tracking platform was launched in March 2014. Hashtagr is an excellent platform for businesses because it can help to track the success of their social media campaigns through Hashtagr's "User Profiles."
While others in the industry are focusing on the B2B (Business to Business) side, Hashtagr has decided to take the other route and pursue the B2C (Business to Consumer) side.
Saagar Gupta, co-founder of Hashtagr states, "Previously, we had focused on developing a tracking feature and live events mode for brand managers and event host, but now we are focused on releasing our cross-platform User Profiles for user acquisition."
With these User Profiles, individual and brand managers will be allowed to curate posts from Facebook, Vine, Google+, Instagram, Twitter, and Tumblr to create their own customized Hashtagr link to share with their friends, family, and followers.
The team is continuously working hard and hopes to release this in July 2014.
In the future, Hashtagr is planning on expanding their website to also incorporate Pinterest.
After being granted access into the Microsoft Idea Camp, the team is taking the next step by moving to Seattle to work on Hashtagr at Microsoft's Headquarters. The Microsoft Idea Camp provides mentorship and space while they work on Hashtagr.
While in school, Khoa Nguyen, Saagar Gupta and Dennis Leancu became finalists in the University of Illinois' Cozad Competition winning a $5000.00 prize and membership to the 1871 digital startup community for the summer, and a finalist at DePaul University's Launch DePaul Competition with a $500.00 prize.
"From hosting SocialFuse pitch parties, to numerous conferences and mentorship events, to setting up presentations to large corporate clients in our industry, to the grand Cozad Competition with 113 start-ups, University of Illinois's TEC has been a significant part of Hashtagr's success this early," Gupta comments.
As for the long-term future of Hashtagr, Gupta states, "We look to focus on user acquisition… The social media industry is changing every few months. We are young, and we are fit to adjust to anything the industry brings us."