TEC Hosts Their Biggest SocialFuse Yet!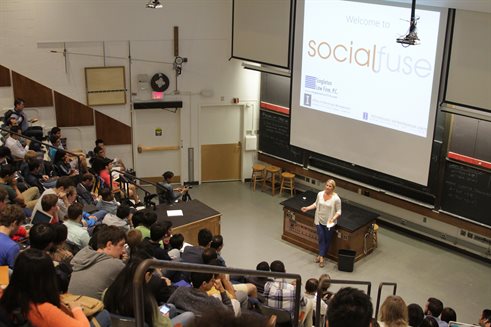 Earlier this month, the Technology Entrepreneur Center hosted their first SocialFuse event of the year. SocialFuse is a recurring event that brings students, faculty, and members of the community together to pitch their startup ideas as well as network with other individuals interested in entrepreneurship.
During the event, over 20 ideas were pitched to a room of nearly 180 attendees (largest turnout to date) in the hopes of creating diverse teams with various skill sets. The event quickly became standing room only as everyone waited to hear the latest in technology entrepreneurship.
The night concluded with a networking event for participants to learn more about the start-ups that were presented.
Brandon Rice, founder of 2 Dots Electronics shared that SocialFuse is a great way to network and bond with people as well as find people who are interested in your product or brand. He also shared that it's nice to see other people passionate about what you're passionate about.
One of the teams that pitched stated, "I'm an engineer, so I know I can't do it alone."
This comment was the exact reason that SocialFuse was created. Students were coming in to TEC with the idea of creating a start-up company, but were unable to find teammates with complementary skills on their own.
With this realization, TEC formed SocialFuse to help build cross-functional teams by inviting students, faculty and community with different areas of expertise to attend and participate.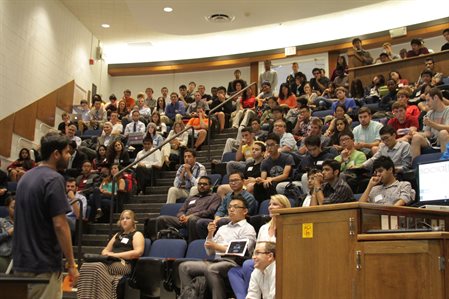 Whether you have the next big idea and need help in execution, or hold skills in marketing, design, business or engineering (just to name a few), SocialFuse is the place for you to find co-founders that can help you create the next big thing.
If you are interested in pitching or attending the next SocialFuse, TEC will be hosting their second event on October 1, 2014 in the BIF Atrium from 6-8pm.