Optimize your workouts with Rithmio!
Founded on the University of Illinois at Urbana-Champaign's campus, Rithmio focuses on building a platform that assists in generating precise gesture-based products. Adam Tilton and his co-founder, Dr. Mehta, first thought of their idea for Rithmio in July 2013 while attending I-Corps, a training program for entrepreneurs to identify potential customer segments for their startup.
Rithmio has recently announced that they have raised $650,000 in financing. This round of seed funding was led by Marcin Kleczynski, CEO of Malwarebytes and recent University of Illinois computer science alumnus. Other companies that contributed to the funding were Illinois Ventures, Techra Investments, Hyde Park Venture Partners, Serra Ventures, BonaVentura Fox Ventures as well as angel investors.
Tilton states, "Rithmio pushes the boundaries in the gesture recognition market by providing advanced gesture recognition as a platform. Our software libraries are built to run on any platform, including wearables, smartphones, or any other connected motion sensing devices. The result is an open platform that enables brands to create accurate gesture-based products efficiently."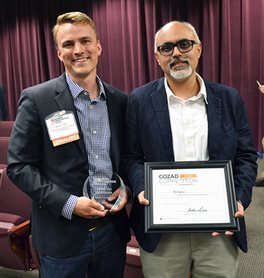 While having a successful startup company, Tilton calls attending the Cozad Competition a turning-point for their company.
"Cozad was an awesome experience! If we didn't do Cozad, we wouldn't be where we are today. Having a chance to present your idea to a room full of investors and be able to hear their feedback was an unbelievable experience."
In the future, Tilton hopes that Rithmio can expand to providing software to companies such as Sony PlayStation, as well as grow in size and client list.