Scanning the Field with AVriculture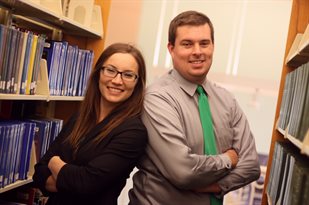 While meeting as undergraduate students at the University of Illinois at Urbana-Champaign, Alex Kreig and Samantha Knoll created AVriculture, a company that strives to solve workflow inefficiencies that large scale commercial farm operators are currently struggling with.
AVriculture was first developed in early 2014. It competed in both the Cozad Competition in April and the Illinois Corporate Startup Challenge in September; both of which helped to spark new ideas that eventually led to AVriculture's expansion.
AVriculture co-founders first thought of their entrepreneurial idea when Kreig noticed that many farm owners and operators did not have the opportunity to properly visualize their field without physically visiting the field. Understanding that this would take a great deal of time and effort, Alex and Samantha created AVriculture to help farm owner/operators regularly understand the state of their land as well as allow them to more efficiently distribute resources.
"Through its first flagship product, the Cropter, AVriculture provides a cost effective means for farm operators to confidently make the complex decisions that affect their daily operations and ultimately their livelihood. The Cropter is a robust autonomous aerial vehicle that provides regular visual surveillance of agricultural land. It travels a predetermined flight path over cropland captures a series of images at user-defined locations, providing a complete overview of the field. With its Cropter, AVriculture presents an inexpensive entry point into completely automated agricultural systems. AVriculture aims to set the stage for the development of an even larger interconnected agricultural equipment package, thus providing a seamless operational environment," she said.
Currently, the AVriculture team is working towards producing their final industrial grade product and is planning on selling to five pilot project clients in spring 2015.