Efficient Battery Startup Natrion Wins Cozad New Venture Challenge 2021
The Technology Entrepreneur Center in The Grainger College of Engineering is pleased to announce the winners of 2021 Cozad New Venture Challenge. Natrion is the Grand Prize winner in the annual business venture creation competition. The clean energy startup won $35,000 in funding, including $20,000 as the first place winner. Additionally, the startup won $10,000 Dr. Paul Magelli Innovation Prize from Illinois Ventures and $5,000 V. Dale Cozad Best Pitch Award from Cozad Asset Management. Natrion is developing next-generation solid-state battery technologies that will make renewable energy sources and hybrid power systems safer and affordable for mainstream markets.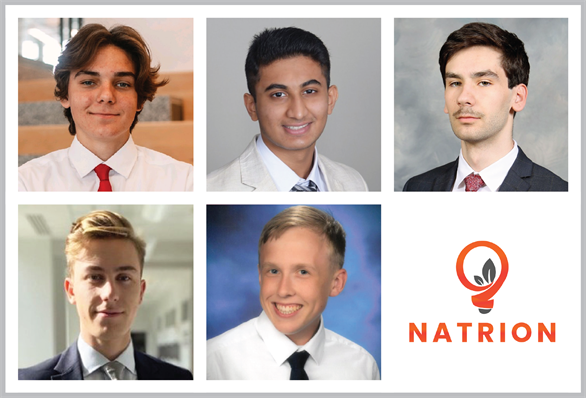 The Cozad New Venture Challenge is an educational experience for the University of Illinois Urbana Champaign student entrepreneurs and innovators to develop and advance their ideas. This program provides mentoring to teams through the phases of venture creation, and resources in idea validation, pitching skills, and customer development.

This year nearly $200,000 was awarded in funding and sponsored prizes to 70 teams to help launch business ventures. During this challenging year more than 100 alumni, judges, mentors, coaches, sponsors, and partners of the thriving entrepreneurship ecosystem in Illinois were involved in making 2021 Cozad New Venture Challenge a grand success.

Nearly $2 million has been awarded in cash and in-kind prizes to student innovators through Cozad since 2000. Past participants of the program include several successful startups including Lightform, Trala, Cast21, Serionix, and Psyonic.

Jed Taylor, Executive Director at the Technology Entrepreneur Center, says, "The University of Illinois is renowned for producing world-class entrepreneurs and innovators. Crunchbase recently ranked the University of Illinois Urbana-Champaign among the top 5 leading public schools in the country graduating the highest number of funded founders. The Cozad New Venture Challenge program is dedicated to providing opportunities and resources to student entrepreneurs to develop an entrepreneurial mindset and make an impact. We congratulate the winning team and all the teams that participated, and look forward to working with them in the future."

Founded in 2018, Natrion is developing a proprietary solid-state battery technology called LISIC, or Lithium Solid Ionic Conductor that battery manufacturers will be able to implement on their assembly lines soon.

Alex Kosyakov, Materials Science & Engineering major and co-founder of Natrion says, "Cozad New Venture Challenge put many of the customer discovery and product-market fit skills that we have been building at Illinois iVenture Accelerator to the test. Through Cozad we got the opportunity to be mentored by Prof. Sanjay Patel of the Department of Electrical and Computer Engineering and he was instrumental in helping us fine tune our pitch to effectively convey our complex problem statement and solution. Our grand prize will help us build our new lab at the EnterpriseWorks at the University of Illinois Research Park, and fund our upcoming pilots.
"We were unsure of how Cozad would work during COVID, but the Technology Entrepreneur Center did an amazing job of putting together a smooth, effective, and highly educational virtual program. We are incredibly grateful for this opportunity," he added.
Second Place | $15,000
Revery.AI took home the $15,000 second place prize. The startup is developing a scalable virtual dressing room experience for fashion retailers. Revery.AI provides a virtual try-on technology to fashion e-commerce ventures through API integration.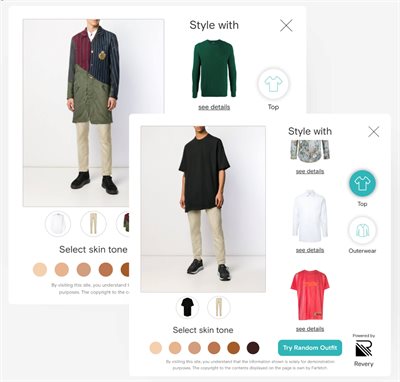 Third Place | $5000
Vuics.com & ReKommender both won the third place with $5000 in funding each. Vuics is a Platform-as-a-Service that is helping businesses and developers build voice user interfaces for any website and apps. Their solution is bringing technologies like Siri and Alexa to businesses.
ReKommender leverages AI for human resource needs to significantly reduce short-listing efforts. Their solution cuts waiting time by 80% and reduces recruiter technology bias, creating a faster and fairer recruitment process.
Fourth Place | $2,500
GrayKea and Equability both won the fourth place with $2,500 in funding each.

GrayKea aims to reduce financial stress through sustainable alumni giving. The startup aims to connect students in need to the alumni of their university. GrayKea has developed a platform for alumni to mentor and directly contribute towards the tuition of college students in need.

Equability is a clothing modification service aiming to disrupt the adaptive clothing market. The startup focusses on flexibly adapting the functional features of off-the-shelf clothing to better meet the needs of buyers with unique needs.
Other Prizes
In addition to the Grand Prize and other top placement prizes, sponsored prizes were also awarded. Details are listed below.
Audience Choice Award | $2,500
GrayKea won the Audience Choice Award with $2,500 in funding.
AWARE Prize | $1,500
Glide and Equability won the AWARE (Accelerating Women And underRepresented Entrepreneurs) prize from the University of Illinois Research Park to help the startup prototype and advance their technology. Glide is developing cost-efficient wearable devices to track people's whereabouts and physical activities like running. The device will serve as an emergency button that will alert approved contacts if the person wearing the device needs help.
AARP, The Tech Nest Award | $1,250
Vigilance AI won the award. The startup is leveraging AI for remote monitoring and providing care for elderly patients, protecting them from emergencies and enabling quicker response.
Orange QC Best Prototype Award | $1000
EpiCap and Phantom Pedal won the award to fund prototype development.
Phantom Pedal is developing a bicycle to enable adaptive cyclists with a unilateral major lower limb amputation to ride naturally using an asymmetric E-bike assist system.
EpiCap is a stylish baseball cap with EEGs powered by AI to clinically diagnose patients with suspected epilepsy.
Founders Best Newcomer Prize | $500
Invedu, a team developing a platform that specializes in supporting students with tuition funding through crowdfunded income share agreements, won the prize.
COVID-19 Technology Acceleration Prize
Vigilance AI won this prize offered by the University of Illinois Research Park. The prize, made possible by the U.S. Economic Development Administration, provides $5,000 in funding to help with prototyping or business development.
TechNexus Prize
Vuics and ReKommender won the access to TechNexus Venture Collaborative's space and resources for twelve months in Chicago, which includes work and meeting space, and access to the community of entrepreneurs and mentors growing there.
mHUB Prize
CamUX won a three-month Co-Working membership at the mHUB innovation center in Chicago. This prize includes access to their shop, a hot desk, conference rooms, mentors, classes, and more. CamUX is developing an eye-tracking wearable to give people with upper functional limitations real access to the internet.
Serra Ventures Prize
Vuics also won also won up to 10 hours in free consulting services for review of the initial business model/plan, value proposition, and investor pitch from Serra Ventures.
I-START Prize
Natrion and Agriwater won the I-Start Accelerator Program prize from the University of Illinois Research Park. The awardees have access to a suite of professional services including business development, legal setup, SBIR applications, and bookkeeping and marketing assistance. Agriwater is developing a technology that purifies and monitors polluted water in real-time to track, visualize, and store turbidity, pH, and temperature via IoT enabled sensors that communicate data to the AI Cloud.
Magelli Office of Experiential Learning at Gies College of Business Prize
Karma Trade, Revery.AI, and Vuics will receive a semester-long consulting project from the Magelli Office of Experiential Learning for their venture. A team of student consultants will work with the teams to complete an agreed-upon consulting project during the 2021-2022 academic year. Karma Trade is a zero waste clothing swap service that allows you to receive equal value fashion for your pre-loved clothing.
iVenture Accelerator Prize
GrayKea won space in the yearlong, educational startup accelerator program.
Singleton Law Firm Prize
Vuics, GrayKea, Equability, NASADYA, PhantomPedal, and EpiCap won free legal services from Singleton Law Firm in the areas of corporate formation, patent, trademark, and licensing.
NASADYA is solving the problem of variability management in the energy grid for power plants by converting excess energy into hydrogen & oxygen.
Meyer Capel Prize
Meyer Capel will provide Natrion, Revery.AI, and ReKommender with free legal services in the areas of incorporation, bylaws/operating agreement, initial incorporation/organization documents, drafting employment agreements, and non-disclosure.
IP Clinic Participants
IP Clinic is a joint effort at the University of Illinois between the Technology Entrepreneur Center (TEC) at the College of Engineering and the College of Law (COL). Patent and trademark applications are prepared free of charge for startup companies selected from Cozad New Venture Challenge. Each patent application typically costs around $10,000-$12,000 and trademark registrations and strategy costs around $2,000-$2,500. This year, CamUX and Phantom Pedal were in the Patent track. The IP Clinic helped 29 Cozad teams with trademark applications.
Learn more about Cozad New Venture Challenge here.