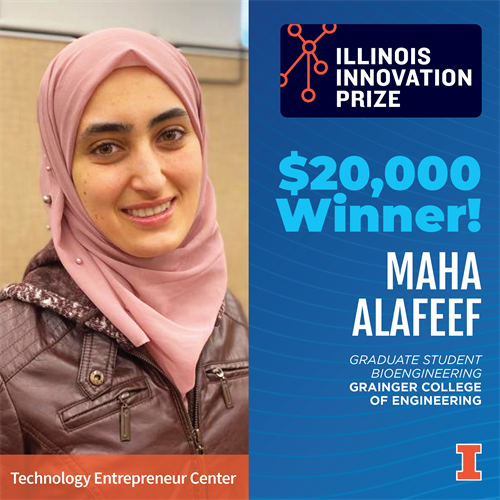 The Technology Entrepreneur Center in The Grainger College of Engineering is pleased to announce the campus-wide innovation prize winners for 2021. Maha Alafeef, a graduate student in Bioengineering, is the Illinois Innovation Prize (IIP) winner for 2021. Maha won $20,000 in funding from Grainger College of Engineering. Each year, the Illinois Innovation Prize honors a creative and passionate student working towards innovative solutions that could have a positive societal impact. Since 2007, over $300,000 has been awarded to student innovators.
Ariana Barreau, a first-year medical student in the Carle Illinois College of Medicine, won the $10,000 Fiddler Innovation Fellowship, stewarded by the eDream Institute at the National Center for Supercomputing Applications (NCSA).
Maha Alafeef' s research work is focused on the use of translational bioengineering approaches to detect genetic materials of pathogens, such as SARS-COV-2, with the overarching goal of offering a rapid and accurate test that can be widely deployed. She has developed an inexpensive, yet highly accurate, nucleic acid-based test for COVID-19 diagnosis with sample to assay time of less than 5 minutes requiring no RNA isolation or nucleic acid amplification. The technology was recently licensed for commercialization to RNA Disease Diagnostics, Inc., an early stage biotech company. The test will support RNA Disease Diagnostics' efforts to develop and manufacture proprietary molecular disease diagnostic testing kits, enabling the company to quickly and accurately detect multiple infectious diseases, helping to lead the prevention of their transmission and spread.
"When the COVID-19 pandemic started, as a biomedical scientist, I felt there was a moral obligation to respond to the global need. With that zeal, and with my advisor's (Prof. Dipanjan Pan) support, I was able to start a project for developing a cost-effective rapid diagnostic test for COVID-19 in collaboration with a multidisciplinary team of scientists in our lab (Dr. Parikshit Moitra and Ketan Dighe)," says Maha Alafeef.
"I'm thrilled to be named as the campus-wide winner of the 2021 Illinois Innovation Prize. This is a milestone achievement for me, and this recognition will surely help pave my way to continue with my passion for biomedical science. I'm a strong believer in translational research and the art of applying knowledge from basic science and engineering to techniques and tools that address unmet medical needs," adds Maha Alafeef.

Rashid Bashir, Dean, The Grainger College of Engineering, says, "Illinois students have gone above and beyond in their response to COVID-19 pandemic. Maha Alafeef's innovative COVID-19 testing kit exemplifies the Illinois culture and commitment to extraordinary innovation and translational research to find impactful solutions to real-world challenges."
The Fiddler Innovation Fellowship winner, Ariana Barreua is the co-founder of ProteCKD, a chronic kidney disease (CKD) pre-screening program that aims to reduce racial disparities in renal care and health expenditures in CKD care. African Americans are 3.5x more likely to reach end-stage CKD compared to white counterparts and are less likely to know that they have CKD. Ariana has developed a CKD pre-screening kit that includes urine-testing strips and educational materials to connect users to local and affordable healthcare resources. Ariana aims to offer marginalized patients an economical way to assess CKD risk for early diagnosis and treatment. She plans to partner with food banks, shelters, and other social programs to distribute kits to communities that need it the most.
The Fiddler Innovation Fellowship is part of a $2 million endowment from Jerry Fiddler and Melissa Alden to the University of Illinois. The endowment supports the eDream Institute at NCSA and innovative students who address societal issues using an interdisciplinary approach.
Donna J. Cox, Director of Illinois eDream Institute at NCSA and Professor in the School of Art and Design says, "Ariana's interdisciplinary research is addressing a grand challenge. Her deep passion for social change is very impressive and aligns with the intent of the Fiddler Innovation Endowment. Ariana represents the future talent who will change the world in positive ways."
Other Finalists for the 2021 Campus-Wide Innovation Prize include:
Gabriel Price, Graduate Student, School of Integrative Biology, Liberal Arts & Sciences
Gabriel Price is the founder of Earnest Earth Agriculture, a company that is helping farmers solve the problem of solid waste management by transforming harmful waste into safe, nutrient-rich bio fertilizer. Gabe has developed, fabricated, and patented a new bioreactor system to improve agricultural sustainability by improving waste management practices directly on farms. Improper agriculture waste management accounts for 15% of greenhouse gas emissions created annually in USA. His innovation can help reduce greenhouse gas emissions. As a PhD candidate, his research is focused on the use of microorganisms to suppress pathogens in crops, with the hopes to replace chemical and synthetic pesticides. Gabe believes that addressing plant pathogen infection in crops will improve food security and enhance crop yield. Pathogens are responsible for up to 40% of the losses in the crop yield globally.

Homa Khosravian, Graduate Student, Computer Science, Grainger College of Engineering
Homa Khosravian is addressing the problem of keeping health care providers, patients with compromised immune systems, and emergency vehicle drivers safe during a pandemic. She is developing a non-emergency autonomous vehicle-based service. The design of the autonomous car will help keep patients isolated from other people and safe during and after the pandemic. She is also working on a design that will take into consideration the health condition of the rider and provide maximum comfort during transit or hospital visits. According to her, the key is to create a mapping between vehicle dynamics, road surface condition, and patient's pain level to effectively plan the vehicle motion. A cost-effective and safe approach to find this mapping is to utilize a driving simulator to replicate the real-world and use EEG sensors to measure patient's comfort levels. Patients with limited movability will also be able to seamlessly interact with the autonomous vehicle. Homa is hoping to leverage a multidisciplinary approach involving expertise from robotics, human-computer interaction, medical sciences, and mechanical engineering to develop the autonomous car.
Shonit Nair Sharma, Medical Student, Carle Illinois College of Medicine
Shonit Sharma is dedicated to applying technology and engineering to solve complex healthcare problems affecting a diverse global population. He has developed Paperometer, a low-cost and environmental friendly version of the incentive spirometer (a handheld breathing tube). Made of paper, Paperometer, is a respiratory rehabilitation device for patients with reduced lung function, including coronavirus-related pulmonary symptoms. Respiratory disease is a leading cause of death and disability globally, with over 1 billion people suffering from illnesses like chronic obstructive pulmonary disease, pneumonia, and COVID-19. Shonit partnered with the Carle Illinois College of Medicine's Health Maker Lab, Department of Bioengineering, Carle Foundation Hospital, and i-MADE (RSO) to prototype, publish, and test his device for distribution to low-resource settings. He also helped address the PPE shortage during the pandemic by creating a reusable respiratory mask with user-friendly instruction guide.
View the Awards Ceremony here.