Cozad New Venture Challenge: What's in it for you?
In case you didn't know, the campus-wide Cozad New Venture Challenge is an experiential program to develop an entrepreneurial mindset and to accelerate the development of your startup idea into a viable business. This program provides mentoring to startup teams through the phases of venture creation, and resources in idea validation, pitching skills, and customer development. You get to showcase your ideas to venture capitalists, early stage investors, and experienced entrepreneurs. More than 3,000 students from all majors and backgrounds have participated so far.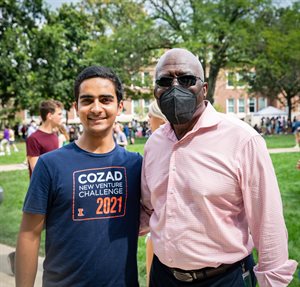 You get to compete for over $200,000 in funding & in-kind prizes. The Grand Prize winner typically receives $20,000 in funding. Last year, the grand prize winning team, Natrion, won $35,000 in total funding, including $20,000 as the first place winner. Additionally, the startup won $10,000 Dr. Paul Magelli Innovation Prize from Illinois Ventures and $5,000 V. Dale Cozad Best Pitch Award from Cozad Asset Management. The second place winner typically receives $15,000, and the third place winner is awarded around $5,000. Several in-kind prizes such as Prototype Award, Best Comer Prize, Intellectual Property and Trademark assistance, assistance with legal services, and more are awarded. Overall, over $2 million has been awarded in prizes and funding since 2000.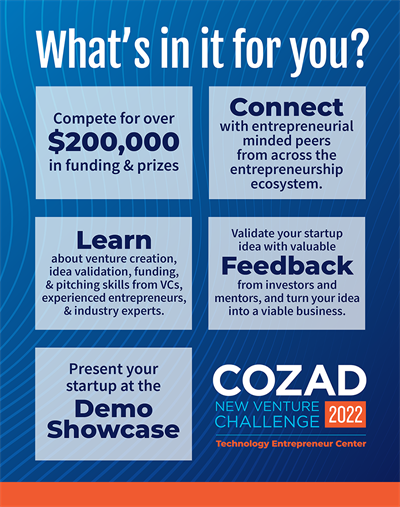 Now that you know about Cozad New Venture Challenge, let's hear from last year's top prize winners and participants as they share their key takeaways from the program:
Cozad Helps You Validate Your Startup Idea with Feedback from Investors: The program helps you validate and pursue your startup idea more thoroughly with feedback from entrepreneurs, venture capitalists, industry leaders, and other experts.
Alex Kosyakov, co-founder of Natrion which won the 2021 Grand Prize, said, "I think what the Natrion team learned during the Cozad program was how to communicate our product's value proposition and the problem that it solves for our customers. Our team is a bunch of engineering students that are in love with the tech we're building. So, whenever we had to get people who aren't familiar with batteries to appreciate our innovation and its commercial potential, we would end up basically putting on a lecture about the underlying materials science phenomena of our product. Cozad connected us with mentors, like Professor Sanjay Patel from the Electrical and Computer Engineering Department, who guided us in making Natrion more accessible to investors, potential customers, and Cozad judges. We became much more disciplined in concisely and effectively conveying our complex problem statement. We also learned how to validate our startup through commercial traction and feedback from our customers instead of just relying on our tech innovation. It was ultimately this evolution that our team went through in Cozad that helped us to not only win the competition, but continues to be essential in our everyday work as we raise capital, secure commercial pilots, and take Natrion to new heights."
Hilary Pham, founder of Equability, added, "Cozad helped me understand the perspectives and viewpoints of the external stakeholders involved with my startup. Interaction with judges and investors especially developed my understanding of what information others are looking for in my pitches and helped me prepare for questions I hadn't anticipated before."
Ashley Moy, CEO & co-founder of Cast21, said, "The Cozad New Venture Challenge was the first opportunity where we had to think critically about our startup idea as a business venture, and not just a project. It was a great experience to get feedback from industry leaders, a varied perspective from experienced professionals, and to meet fellow entrepreneurs. We're still in touch with many of those people, and continue to exchange ideas to keep our businesses thriving. I would encourage students to attend all Cozad related events. Ask for connections, ask for help. You don't get what you don't ask for."
Cozad Helps You Connect With Entrepreneurship Ecosystem Partners Who Could Become Your Potential Investors: The University of Illinois fosters a thriving entrepreneurship ecosystem with internal and external stakeholders that can help you move forward with your entrepreneurial goals.
Chaitanya Gulati, founder of NASADYA, who has taken part in Cozad more than once said, "Cozad introduces you to the amazing entrepreneurship ecosystem on campus and helps you find mentors and friends to learn from and grow your ventures with." Kosyakov adds, "Cozad brought in people from all across the entrepreneurial community in Illinois. There were fantastic networking opportunities. For instance, after the Cozad finals, we got linked with TechNexus Venture Collaborative in Chicago and they are now one of our key investors and commercialization partners. At another Cozad networking event, we met an engineer from Tesla that ended up connecting us with more people at Tesla and another company, Northvolt. Those contacts have been invaluable in helping us fine-tune our innovation for commercialization. Overall, the networking opportunities during Cozad were fantastic. You meet some really amazing people who just want to help you in any way that they can."
Cozad Helps You Learn About Venture Creation: Past participants and winners of the program include several successful startups like Lightform, Trala, Cast21, Serionix, Psyonic and more. You can find out more about our past winners here.
"Participating in Cozad helped me identify and tackle the issues I didn't understand about my startup. Things like who the target market was or how to approach creating a business model became concrete and helped me develop tangible plans for my business. Through classes and RSOs, I had learned about financial models and performing market analysis at a high level but didn't have the proper tools to translate the broader goals into action items I could break into day-to-day activities. Cozad enabled me to identify the business and planning concepts I needed to work on, small milestones and goals to achieve those larger planning deliverables, and cover all my research and financial bases before launch," said Pham.
Gulati added, "The program is really relevant for the development of the venture and for anyone genuinely trying to make headway on their startup. From customer discovery to the business model canvas, the tools taught are really practical and the structure of teaching makes it very easy to manage along with your coursework."
Cozad Helps You Secure Funding: Teams can compete for over $200,000 in funding and in-kind prizes. The awards are funded through sponsorship, alumni donations, and campus partners.
Brett Jones, CEO & co-founder of Lightform, said, "We won the Cozad New Venture Challenge, and the prize money provided seed funding for Lightform." Lightform won the Grand Prize in 2014.
Derek Hoiem, Associate Professor of Computer Science and co-founder of Reconstruct said, "First and foremost, the Cozad New Venture Challenge was a motivating experience for the students that helped us found Reconstruct, and encouraged the team to think beyond the technical development and about the potential for impact and commercialization. Also, quite a few investors learned about Reconstruct for the first time at the competition, and many still remember our presentation." Reconstruct won the 2nd Place prize in 2016.
"The hefty $25,000 grand prize, and the $10,000 Dr. Paul Magelli Innovation Prize offered by Illinois Ventures, was the motivation we needed to present and conduct ourselves as a company rather than a project," said Aashay Patel, previous co-founder of Vitrix Health (now Orali Health). Vitrix Health won the Grand Prize in 2018.
Cozad Helps You Become a Part of the Startup Community: You can become part of the vibrant startup community, engage in meetups, and network with your peers to make progress on your startup idea. Mona Fang, founder of Karma Trade, said, "Cozad is a great way to meet other like-minded entrepreneurial folks on campus. Community is key to success. I highly recommend participating to begin your journey in the startup world."
"I seriously doubt that there is any other college in the world with more entrepreneurial activity than the University of Illinois, and Cozad has a way of bringing together everybody involved in entrepreneurship at the University of Illinois in one way or another," added Kosyakov.
Registration is open for Cozad New Venture Challenge. Take the Cozad New Venture Challenge! Register by January 31 here.