6 Illinois Teams to Compete For Cozad New Venture Challenge Grand Prizes
The Technology Entrepreneur Center in The Grainger College of Engineering is pleased to announce the six finalists selected to compete in the finals of the campus-wide Cozad New Venture Challenge 2022. The Cozad New Venture Challenge is an experiential new business venture creation program for University of Illinois Urbana-Champaign student entrepreneurs and innovators to develop and advance their ideas.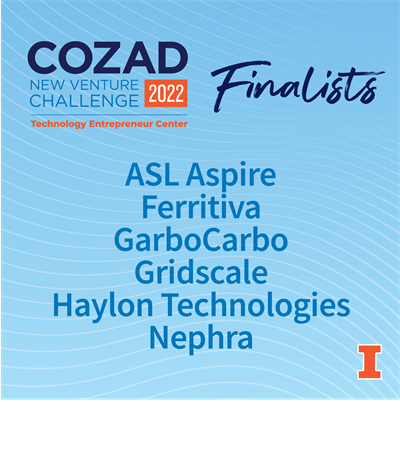 The Cozad New Venture Challenge provides mentoring to teams through the phases of venture creation, and resources in idea validation, pitching skills, and customer development. Past participants of the program include several successful startups, including Mesh++, Prenosis, Reconstruct, Trala, Cast21, Natrion, and Psyonic. Over $2 million has been awarded in cash, top placement, and sponsor prizes to student innovators through Cozad since 2000.
This year, the program commenced in early February with 75 competing teams. The teams attended workshops on customer discovery, value proposition, financials, and presentation skills. The teams also had access to a pool of mentors for guidance and feedback.
Nearly 45 startup teams made it to the Demo Showcase. The teams pitched their startup ideas to about 50 past Cozad alumni, investors, mentors, faculty, sponsors, and partners of the thriving University of Illinois entrepreneurship ecosystem who served as judges at the Demo Showcase on April 13 at the I Hotel and Conference Center in Champaign, Illinois.
At the Cozad New Venture Challenge 2022 virtual finals event, scheduled for April 20 (closed to public), the six finalists will present their startup ideas to a panel of judges for the top placement prizes. All the teams including the finalists that took part in the Demo Showcase will be eligible for prizes totaling over $200,000 in funding, cash, and in-kind prizes. The grand prize winners will be announced at the Cozad New Venture Challenge Awards ceremony on April 27 (register below).
Jed Taylor, Executive Director of the Technology Entrepreneur Center, says, "We congratulate the six finalists and all the teams that are participating in the competition. The teams are a good representation of both the depth and breadth of the innovation on our campus."
The Cozad New Venture Challenge 2022 Finalists are:
ASL Aspire: The startup has developed a game-based online platform that teaches STEM literacy to deaf students. Deaf students don't have access to basic vocabulary to succeed in STEM, making them seventy times less likely to pursue STEM careers. ASL Aspire is developing an educational platform that teaches STEM words through interactive mini games. Deaf or hard-of-hearing students will be taught the foundational knowledge necessary to ace their classes and prepare for future STEM careers.
Ferritiva: Ferritiva is developing a method to check for iron deficiency non-invasively using an individual's saliva, which will save time and costs associated with obtaining blood work. Iron deficiency has a prevalence of up to 80% worldwide and is normally detected through blood work. Ferritiva plans to sell point-of-care (POC), pocket-sized Lateral Flow Immunoassay (LFIA) testing kits that screen the user for iron deficiency anemia.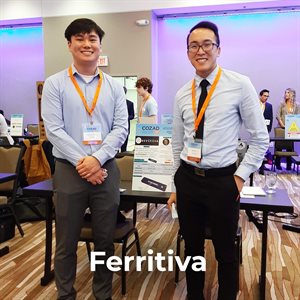 GarboCarbo Inc: The startup is developing carbon scrubbers, an efficient and scalable carbon capture for coal-fired power plants. The device will remove the carbon dioxide from fuel gas emitted by the plant and convert it into limestone, which the startup intends to feedstock into the construction industry.
GridScale: The startup aims to accelerate the adoption of renewables by using cryptocurrency mining to reduce the cost of solar for homeowners. GridScale will enable homeowners to use their excess solar energy to mine crypto ($0.60 - $1.20/kWh) instead of selling it back to the grid ($0.03/kWh).
Haylon Technologies: Haylon Technologies aims to revolutionize the performance, safety, and sustainability of batteries through a new battery management system. The system can intelligently switch between different energy sources to accomplish different tasks. Haylon is currently producing a fixed-wing drone battery with 40% greater battery life. The startup also won the Best Presentation award with a $500 cash prize at the Demo Showcase.
Nephra: Nephra is engineering software for chronic kidney disease (CKD) patients to monitor their potassium levels using a handheld ECG. The startup is developing a remote monitoring technology that uses a machine learning algorithm to classify risky ranges of key electrolytes through non-invasive, convenient ECG readings.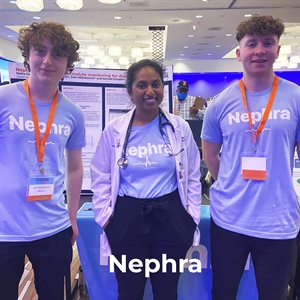 Register here to watch the Virtual Cozad New Venture Challenge Awards Ceremony on April 27. Learn more about the origin of Cozad New Venture Challenge here.