Smart Battery Management System Startup Wins Cozad New Venture Challenge 2022
The Technology Entrepreneur Center in The Grainger College of Engineering is pleased to announce the winners of 2022 Cozad New Venture Challenge. Haylon Technologies is the Grand Prize winner in the annual business venture creation competition. This year, over $200,000 was awarded in funding and sponsored prizes to Cozad teams to help launch business ventures.
The battery startup won $45,500 in total investment, including $40,000 as the first place winner. Additionally, the startup won the $5,000 V. Dale Cozad Best Pitch Award from Cozad Asset Management. The startup also won the Best Presentation award with a $500 cash prize at the Demo Showcase that was held on April 13.
Led by Department of Electrical and Computer Engineering students, Haylon Technologies is developing the next generation of smart hybrid batteries. The startup aims to revolutionize the performance, safety, and sustainability of batteries through a proprietary 'smart' battery management system that can improve battery life by up to 50%. The system can intelligently switch between different energy sources to accomplish different tasks.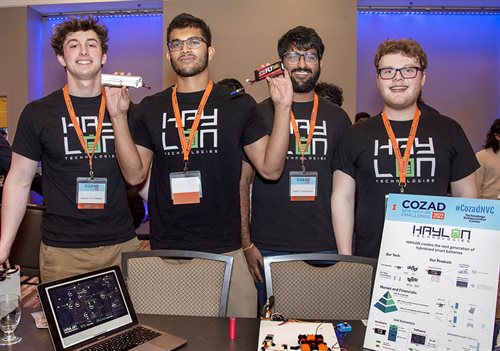 Namin Shah, founder of Haylon Technologies says, "TEC has provided me with a priceless undergraduate experience. I came to UIUC as a prospective engineer, but now I feel just as confident in my ability to be a business leader that can execute my engineering ideas and passions in the market. Taking part in the Cozad New Venture Challenge several times was a highlight of my college experience. From learning about the value of customer discovery to the finer details of leading and executing a technology-based startup, Cozad did a phenomenal job of sharpening our business. It was incredibly fulfilling to see Haylon finish first in this prestigious competition. We truly see this is just the beginning of the future of energy storage."
The Cozad New Venture Challenge is an experiential new business venture creation program for University of Illinois Urbana-Champaign student entrepreneurs and innovators to develop and advance their ideas.
The campus-wide program provides mentoring to teams through the phases of venture creation, and resources in idea validation, pitching skills, and customer development. Past participants of the program include several successful startups, including Mesh++, Prenosis, Reconstruct, Trala, Cast21, Natrion, and Psyonic. Over $2.5 million has been awarded in cash, top placement, and sponsor prizes to student innovators through Cozad since 2000.
This year, the program commenced in early February with 75 competing teams. The teams attended workshops on customer discovery, value proposition, financials, and presentation skills. The teams also had access to a pool of mentors for guidance and feedback. Over 90 alumni, judges, mentors, coaches, sponsors, and partners of the thriving entrepreneurship ecosystem in Illinois were involved in making the 2022 Cozad New Venture Challenge a grand success.
Jed Taylor, Executive Director of the Technology Entrepreneur Center, says, "The University of Illinois is known for producing world-class innovators, entrepreneurs, and leaders. We are proud to enable and support Illinois entrepreneurs through the impactful Cozad New Venture Challenge program and the thriving entrepreneurship ecosystem. We are impressed by the variety of quality student startups that participated in the program this year. We congratulate the winning team, Haylon Technologies, and all the teams that participated, and look forward to working with them in the future."


Second Place Tie | $20,000 (Each)
Nephra and Ferritiva, both won second place with $20,000 in investment each. Nephra is engineering software for chronic kidney disease (CKD) patients to monitor their potassium levels using a handheld electrocardiogram. Ferritiva is developing a method to check for iron deficiency non-invasively using an individual's saliva, which will save time and costs associated with obtaining blood work.
Third Place Tie | $5,000 (Each)
ASL Aspire, GarboCarbo, and Gridscale won third place with $5,000 investment each. ASL Aspire has developed a game-based online platform that teaches STEM literacy to deaf students. GarboCarbo is developing carbon scrubbers, an efficient and scalable carbon capture for coal-fired power plants. Gridscale aims to accelerate the adoption of renewables by using cryptocurrency mining to reduce the cost of solar for homeowners.
Dr. Paul Magelli Innovation Prize | $10,000
Second place winner Ferritiva, also won the Dr. Paul Magelli Innovation Prize with $10,000 funding by Illinois Ventures.
Edwin Moore Family Agriculture Innovation Prize | $5,000
FarmTrak, a deep-learning-based application that uses localized ecological features to predict crop disease vulnerability and offer real-time recommendations for both novice home gardeners and large-scale farmers to prevent early crop destruction, won the prize.
Orange QC Best Prototype Award | $1,000
Scrunchie Hijab, Not Your Aunty's Snacks, SafeLane, and Untitled Electrical won $1,000 each for prototype development.
Untitled Electrical is developing a battery-powered system that solders cables without a soldering iron.
Scrunchie Hijab is a modern Muslim woman's bridge between daily life and religion, transforming from scrunchie to hijab and back again to offer ease, function, and fashion.
Not Your Aunty's Snacks is producing snacks that combine American favorites with Indian flavors.
SafeLane is a safety system that notifies parked cars of oncoming cyclists to prevent dooring.
Dooring is one of the most common cycling accidents and discourages people from cycling.
AWARE Prize | $1,500
BookFuture, a startup that claims to be the first-ever mobile app for the on-campus used textbook market, won the AWARE (Accelerating Women And underRepresented Entrepreneurs) prize from the University of Illinois Research Park to help the startup prototype and advance its technology.
Grainger College of Engineering AWARE Prize | $1,000
VOCA, ASL Aspire, and Scrunchie Hijab each won the AWARE (Accelerating Women And underRepresented Entrepreneurs) prize from the Grainger College of Engineering.
VOCA is an app designed to analyze voices to help manage diagnosed voice disorders and prevent the onset of future complications.
Cozad Best Pitch at Elevator Night Pitch Award | $250
Ferritiva and SafeLane won $250 each for the Best Pitch award at the Cozad Elevator Night pitching event.
Audience Choice Award | $500
ASL Aspire won the award at the virtual Cozad Awards ceremony.
Founders Best Newcomer Prize | $250
VOCA won the Founders Best Newcomer cash prize. Founders is a student entrepreneurship organization.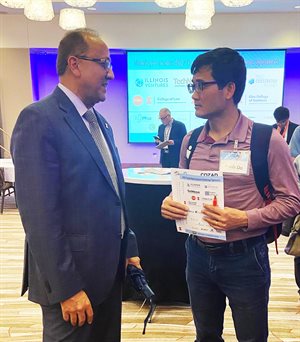 Other Prizes
In addition to the Grand Prize and other top placement prizes, sponsored prizes valued at over $100,000 were also awarded. Details are listed below.
Research Park I-Start Prize
Haylon Technologies, Nephra, and Ferritiva won acceptance into the I-Start program, which provides 80% funding for the cost of first-year legal services, accounting/financial assistance, Small Business Innovation Research (SBIR) application consulting, business plan and market research preparation, basic website development, and logo design, up to $15,000 (value of services for each team).
Research Park Entrepreneur-in-Residence Support Prize
ZamCare, Environ, Poetic, Campus Crossings, and Cryptogevity each won $2,000 worth of consulting services from EnterpriseWorks' Entrepreneur-in-Residence program to provide advice regarding legal issues, business plans, fundraising, and industry connections.
ZamCare is a next-generation telehealth platform offering comprehensive physical exams virtually using digitally connected devices.
Environ is an OSHA safety procedure generation and management software.
Poetic is a lyrical copilot that helps songwriters and lyricists write better lyrics more efficiently.
Campus Crossings is an interactive app that allows prospective students to explore and discover campus amenities and landmarks through location tracking and insights from students. The app acts as a placeholder for an in-person tour guide and gives future students the same experience, recommendations, information, and advice.
Cryptogevity provides students, universities, and companies with an immersive learning system that teaches everything they want to know about blockchain and cryptocurrency.
iVenture Accelerator Prize
Ferritiva, Haylon Technologies, and Gridscale won access to the yearlong, educational startup accelerator program, including stipends and funding.
TechNexus Venture Collaborative Prize
GridScale and Haylon Technologies won access to TechNexus Incubator space and resources for twelve months in Chicago The prize includes work and meeting space, and access to the TechNexus community of entrepreneurs and mentors.
Magelli Office of Experiential Learning at Gies College of Business Prize
ASL Aspire, GridScale, Scrunchie Hijab, Not Your Aunty's Snacks, and Mama Ed Ecolab will receive a semester-long consulting project from the Magelli Office of Experiential Learning. A team of student consultants will work with the teams to complete an agreed-upon consulting project during the academic year.
Earth Mama Ed Ecolab grows critical ecoliteracy while delivering environmental education to diverse youth, especially those with behavioral and socio-emotional challenges who often struggle most in traditional classrooms.
BioPhia Consulting Prize
Ferritiva and Nephra both won 20 hours of free consulting in the medical products area.
Singleton Law Firm Prize
Haylon Technologies, Ferritiva, Gridcale, GarboCarbo and Nephra won free legal services from Singleton Law Firm in the areas of corporate formation, patent, trademark, and licensing.
IP Clinic Participants
The IP Clinic is a joint effort at the University of Illinois between the Technology Entrepreneur Center in Grainger Engineering and the College of Law. Patent and trademark applications are prepared free of charge for startup companies selected from the Cozad New Venture Challenge. Each patent application typically costs around $10,000-$12,000 and trademark registrations and strategy costs around $2,000-$2,500. This year, the IP Clinic will help one Cozad team with their patent application and 45 Cozad teams with trademark applications.
Learn more about Cozad New Venture Challenge here.