New Portable Testing System for COVID-19 Diagnosis Wins Campus-Wide Innovation Funding
The Technology Entrepreneur Center in The Grainger College of Engineering is pleased to announce the campus-wide innovation award winners for 2022. Guanhua (Daniel) Xun, a graduate student in Bioengineering, is the Illinois Innovation Award winner for 2022. Guanhua won $20,000 in funding from Grainger Engineering.
The Illinois Innovation Award honors University of Illinois Urbana-Champaign students for excellence in cutting-edge innovation or translational research that addresses real-world problems and has the potential to make a significant impact. Since 2007, over $300,000 has been awarded to student innovators.
Xun is a member of the research group led by Chemical and Biomolecular Engineering professor, Huimin Zhao. The research team has developed a rapid, Scalable, and Portable (SPOT) testing system for COVID-19 diagnosis. This affordable system comprises a saliva-based virus detection assay and a battery-powered portable device that can be used anywhere. The system enables high volume and low-cost access to COVID-19 testing.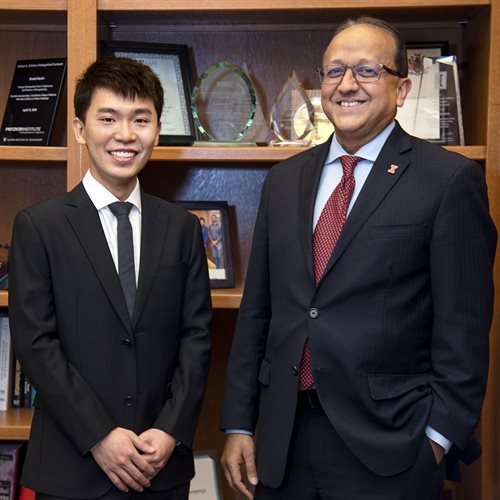 The SPOT system simplifies the complicated testing results workflow, such as heating and cooling each sample to get results. It is also less invasive than a nasal swab. The test can detect as little as one viral particle per 1-microliter drop of fluid.
Xun is also developing a SPOT based at-home testing system for rapid diagnosis of any viral respiratory infections in a single test. He envisions the SPOT system will become an important tool to help prevent future respiratory disease outbreaks and accelerate the diagnosis of other non-respiratory diseases in a non-invasive testing manner.
"The COVID-19 pandemic has brought tremendous pressure on public health systems worldwide. The demand for developing an accurate, fast, and user-friendly at-home testing system meets my long-term interest in diagnosing pathogens for human-related diseases. We assembled the SPOT system to meet the needs of an accurate self-monitoring detection system without professional supervision. A supportive and collaborative multidisciplinary team achieved this work within five months. I would like to thank my advisor (Prof. Huimin Zhao) and all the team members for their commitment and contribution," said Xun.
He added, "It is my great honor to be awarded the Illinois Innovation Award. This affirmation encourages me to continue my path in building the bridge between biomedical engineering and real-life application. I believe applying biomedical engineering to translational research is a life-changing approach that can advance the quality of human life."
Gabe Tavas, a senior in Sustainable Design, College of Fine & Applied Arts, won the $10,000 Fiddler Innovation Fellowship, stewarded by the eDream Institute at the National Center for Supercomputing Applications (NCSA).
The Fiddler Innovation Fellowship is part of a $2 million endowment from Jerry Fiddler and Melissa Alden to the University of Illinois. The endowment supports the eDream Institute at NCSA and innovative students who address societal issues using an interdisciplinary approach.
Gabe Tavas has developed a wood alternative called Pyrus, made from waste from kombucha brewing. He is the founder of Symmetry Wood, a biotech company that is focused on making wood without cutting down trees. Tavas is exploring using bacteria to produce cellulose — the major component of wood and the most abundant organic substance on Earth. The cellulose can be formed into a new and innovative alternative to wood for many commercial products.
Tavas is using Pyrus to make items like guitar picks and jewelry. In the future, he hopes to 3D print the bacteria cellulose into bigger objects that would be difficult to make out of a sheet of the material. He is also the winner of 2021 U.S. James Dyson Award.
Finalists for the 2022 Illinois Innovation Award include: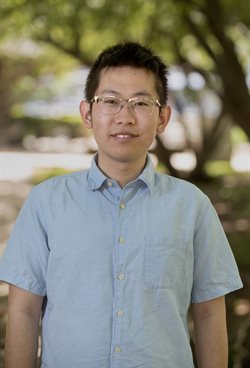 Hanwei Wang (PhD candidate, BioNanophotonics Lab, Electrical and Computer Engineering): Hanwei has developed a new type of metasurface that can reshape the magnetic field to an arbitrary distribution. The metasurface is shown to enhance the signal-to-noise ratio of magnetic resonance imaging by over 28 times, which is over five times better than the state-of-the-art technology in the field. The metasurface also demonstrates its applications in wireless power transfer. It can be made as a wearable device to charge implanted medical devices, such as pacemakers.
Zachary Jeckell (PhD candidate, Nuclear, Plasma, Radiological Engineering): He has developed a novel positive kick pulse technology. The technology has been commercially translated by Starfire Industries at the Research Park. Starfire Industries has created the first HiPIMS unit that allows for the control of both the amplitude of the kick pulse and width, in addition to all the controls of a traditional HiPIMS power supply.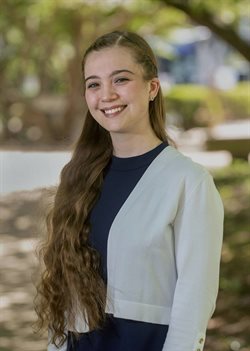 Grace McClowry (MSW Candidate, School of Social Work): Grace is innovating and working towards a system change. She is working on a Photovoice and Social-Emotional Learning project that uses images and voices to foster a just and more equitable society. Photovoice is a community-participatory action research method that Grace has innovatively adapted to engage youth and elevate their voices. The project engages parents, teachers, and students in the process of creating social change. It aims to mobilize communities to support positive youth development.