Enhance your career with the ILEE BS Dual Degree
As an undergraduate engineering student at the University of Illinois Urbana-Champaign, you have the opportunity to pursue the BS Dual Degree in Innovation, Leadership, and Engineering Entrepreneurship (ILEE). ILEE was launched in 2017 to help students learn how to commercialize technology and develop entrepreneurial skills to succeed in their chosen career. ILEE provides a firm foundation for making you a well-rounded engineer who can lead with impact.
When Cara Bognar, Bioengineering junior, and student athlete, was in high school, she knew that her interests lie at the intersection of engineering, business, and entrepreneurship. She is the founder of Top Tier Lessons, an online platform that connects college student athletes with parents in the community looking for sports lessons for their kids. Parents can book a lesson with local student athletes like Cara, who happens to be a swimmer. The platform arranges the venue for lessons, payment, scheduling, and other logistics. All student athletes and parents do is show up for the lessons at the right time. Top Tier Lessons is gearing up for launch soon.
"When NIL (Name, Image, Likeness. NIL refers to an individual's ability to capitalize on their right of publicity and to be compensated through third-party endorsements) came about, I was incredibly excited to see what this could do for sports and for the entire future of athletics. But being in a non-revenue sport, I quickly realized that those (monetizing their brand) opportunities were for top footballers [or] top basketball players who could put their names on the back of T-shirts, earn millions of Instagram followers, and could instantly make money. So, to solve the problem of finding a way for non-revenue sports to make money on their own time, I created Top Tier Lessons," says Bognar.
"I realized my passion for entrepreneurship when I was working through the process of setting up Top Tier Lessons. I love every aspect of entrepreneurship, from customer discovery to ideation, to problem solving and venture creation. When I took TE 250: From Idea to Enterprise taught by Professor John Thode, I honestly hung on to every word he mentioned in class. TE: 250 solidified my decision to get the ILEE degree. It brings me out of just the engineering spectrum at Illinois and exposes me to all other disciplines. Through ILEE, I have been able to connect with other departments and organizations like the Brand Hub, the College of Media, and the advertising society. I love using all the ecosystem resources that I couldn't have learned about by just pursuing the Bioengineering curriculum."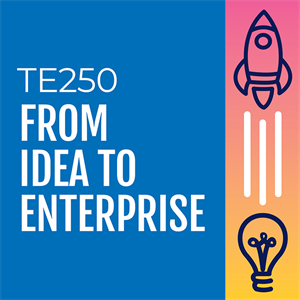 The ILEE curriculum includes courses such as TE 250: From Idea to Enterprise, TE 450: Startups-Incorporation, Funding, Contracts, & Intellectual Property, TE 333: Creativity, Innovation, Vision, and TE 461: Technology Entrepreneurship. ILEE courses are taught by award winning instructors with industry experience and world-class expertise.
Chaitanya Gulati, Systems Engineering and Design and ILEE '22 grad says, "I decided to pursue ILEE since the classes offered seemed to teach exactly the concepts I was confused about when I was working on my startup NASADYA. ILEE is perfect for first-time entrepreneurs as it helps them get comfortable with the various processes of developing a new business venture, which otherwise would seem very daunting and add more uncertainty to the already super ambiguous journey of developing a startup." NASADYA is a clean energy startup that aims to solve the problem of variability management in the energy grid for power plants by converting a money-losing by-product, excess energy, into money-making co-products, hydrogen, and oxygen.
Gulati is passionate about sustainable energy and is now pursuing a master's in civil engineering with a specialization in atmosphere and energy at Stanford University. "The instructors in the ILEE program lead engaging classes that completely change your preconceived notions about entrepreneurship, and they always go above and beyond to help you. I still reach out to them for mentorship and for sorting through personal dilemmas," he adds.
ILEE Courses are taught by faculty from across campus: Grainger Engineering, Gies Business, Art & Design, and others. There is a strong emphasis on experiential learning, with opportunities for students to earn credit by working on their startup or other projects. The ILEE degree adds 30 hours to a student's primary degree program and graduating students earn two degrees from Grainger Engineering by completing both programs. ILEE also offers students the advantage of networking with like-minded innovators in the thriving entrepreneurship ecosystem on campus and in the community.
Mohammad El-Jawhari who is an Electrical and Computer Engineering and an ILEE student feels ILEE provides a refreshing break from purely technical classes. "I find the content genuinely interesting, without being overwhelming in terms of workload. The type of knowledge I gain from ILEE classes can't be gained from my other classes. I enjoy being surrounded by students and instructors with similar goals and ambitions."
He adds, "I also view it as a highly necessary steppingstone toward my goal of becoming an entrepreneur. The coursework I've taken has truly accelerated my understanding of what entrepreneurship and leadership means or looks like, and I'm sure this is only furthered in the higher-level courses. There's also the obvious benefit of the extra credibility that such a degree provides when looking for a job or trying to launch a startup."
Earning your BS dual degree in ILEE adds to your primary engineering degree by fostering marketable entrepreneurial skills, like recognizing problems as opportunities, creating innovative solutions, cultivating curiosity, applying agile thinking, identifying risks, and demonstrating leadership. ILEE helps you enhance your career by providing knowledge, concepts, and tools to gain a competitive edge in the job market.
Interested in pursuing ILEE? Learn more here.