UIUC Student Startups Win Big at College New Venture Challenge!
The Polsky Center for Entrepreneurship and Innovation and The Grainger College of Engineering are pleased to announce the winners of the 11
th
Annual
College New Venture Challenge
(CNVC).
Top Tier Lessons, a startup founded by University of Illinois Urbana-Champaign (UIUC) students, won first place (tie) with $35,000 in investment. Top Tier Lessons is an online platform that matches college student athletes with parents in the community looking for sports lessons for their kids.
Sakura MedTech, co-founded by Bioengineering student Priya Kumar, won second place (tie) with $20,000 in investment. The startup is developing efficient, accessible, and patient-centric medical devices to reduce stress at the gynecologist's office. Demeter, founded by Engineering Physics student Ayush Sharma, won third place (tie) with $10,000 in investment. Demeter is developing digital tools for farmers and lenders to simplify the loan application process and make use of alternative data like remote sensing, predicted yield, and soil health to make better credit risk assessment of farms for loans.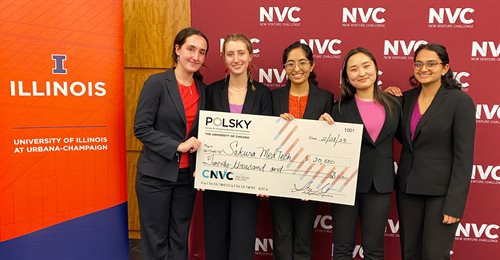 CNVC is the undergraduate track of the University of Chicago Booth School of Business New Venture Challenge—one of the top-ranked accelerator programs in the nation—and is open to returning undergraduate students from UChicago and students in the entrepreneurship track (Startup City Scholars) of The Grainger College of Engineering's City Scholars program at the University of Illinois Urbana-Champaign. Through the nine weeklong cohort, Startup City Scholars students leverage Chicago's many resources for entrepreneurs, encouraging them to build businesses in Chicago after graduation.
"CNVC is a shining example of what venture competitions are all about. It's pushing big ideas beyond the classroom; fostering a culture of collaboration, innovation, and entrepreneurship across disciplines; and bridging the gap between academics and industry," said Jed Taylor, Assistant Dean of Innovation and Entrepreneurship in The Grainger College of Engineering. "Congratulations to this year's winners. We look forward to following all the teams as they continue to pursue their entrepreneurial ventures."
Cara Bognar, the founder of Top Tier Lessons and a student athlete, says that the NIL bill (Name, Image, Likeness) that was passed in June 2021 played a significant role in the launch of Top Tier Lessons. "Top Tier Lessons would not be possible without this new legislation. When Top Tier Lessons was started, we were looking for a way to help student athletes monetize and potentially profit off their own name image and likeness. Today, we serve a 3-sided market. We help student athletes make money on their own time, doing what they love. We give parents the opportunity to give their children more than a coach, we give them a mentor and role model. We also partner with local venues, adding a separate revenue stream and the potential to drive in new customers."
Bioengineering and ILEE Dual Degree student Bognar adds, "Winning the CNVC competition will help Top Tier Lessons in many more ways than just funding. The ability to participate in this program has taken Top Tier Lessons from early development into a revenue producing company. The faculty and coaches involved in the program have been invaluable and we cannot wait to continue to build upon these relationships. The funding received will help us launch in four schools: The University of Illinois Urbana-Champaign, Parkland Community College, Southern Illinois University, and the University of Chicago. We will be able to impact hundreds of student athletes because of this opportunity."
Top Tier Lessons is planning for a full platform launch as an app and a website in April in Champaign, Illinois. The startup is aiming to scale rapidly and host lessons in 20 locations by 2024.
Read about the other winning teams of the 2023 CNVC competition here.