Sports Lessons Scheduling Platform Wins Cozad New Venture Challenge 2023 Grand Prize
The Technology Entrepreneur Center in The Grainger College of Engineering and the Carle Illinois College of Medicine are pleased to announce the winners of the 2023 Cozad New Venture Challenge. Top Tier Lessons, an online platform that matches college student-athletes with parents in the community looking for sports lessons for their kids, is the grand prize winner in the annual business venture creation competition.
Top Tier Lessons won $45,000 in total investment, including $40,000 as the first-place winner at the Cozad Finals event on April 19 at the Discovery Partners Institute in Chicago, Illinois. The startup also won the $5,000 V. Dale Cozad Best Pitch Award from Cozad Asset Management.
This year, a significant development is the addition of Healthcare Innovation Track in collaboration with the Carle Illinois College of Medicine. More than 30 teams developing healthcare solutions received specialized programming to help them navigate the complex process of bringing healthcare products to the market. The Healthcare Innovation Track provided access to top-notch mentors to healthcare teams and guidance related to commercializing medical technologies, and access to a prize pool for healthcare-related teams only.
Led by Grainger Engineering student and a D1 swimmer at the University of Illinois Urbana-Champaign, Cara Bognar, Top Tier Lessons leveraged the new market opportunity provided by the Name, Image, and Likeness (NIL) bill that was passed in 2021. NIL refers to an individual's ability to capitalize on their right of publicity and to be compensated through third-party endorsements. The platform, which was launched on April 10, offers lessons for football, basketball, swimming, and soccer. The platform arranges the venue for lessons, payment, scheduling, and other logistics.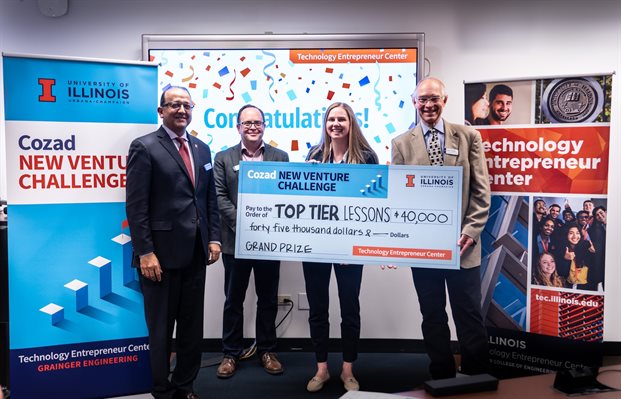 Cara Bognar, a bioengineering student, and founder of Top Tier Lessons says, "I have been involved with the entrepreneurship ecosystem at the University of Illinois ever since sophomore year and, Cozad has always represented the pinnacle of everything this ecosystem offers and stands for. I chose to enter Cozad to meet like-minded student founders all working on incredible problems and continue my work with Top Tier Lessons. We never would have imagined being able to win Cozad, and this accomplishment is such an honor. This funding will help keep us on track to launch in another 20 schools and continue to inspire the future generations of athletes."
This year, over $330,000 was awarded in funding and sponsored prizes to Cozad teams to help launch business ventures. The campus-wide program provides mentoring to teams through the phases of venture creation, and resources in idea validation, pitching skills, and customer development. Past participants of the program include several successful startups, including Mesh++, Prenosis, Trala, Cast21, Natrion, and Psyonic. Over $2.5 million has been awarded in cash, top placement, and sponsor prizes to student innovators through Cozad since 2000.
The campus-wide competition kicked off in early February with over 100 competing teams representing 11 colleges. The teams attended 4 workshops on customer discovery, value proposition, financials, and presentation skills, besides optional skills development workshops. Nearly 90 startup teams made it to the Demo Showcase that took place on April 13 at the Illinois Conference Center in Champaign, Illinois. The teams pitched their startup ideas to about 105 past Cozad alumni, investors, mentors, faculty, sponsors, and partners of the thriving University of Illinois entrepreneurship ecosystem who served as judges.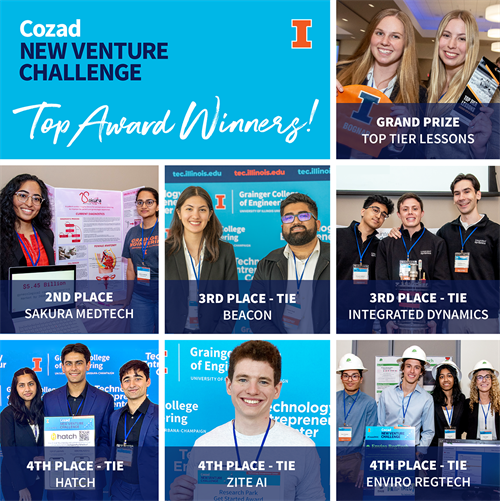 Jed Taylor, Assistant Dean for Innovation and Entrepreneurship and Executive Director of TEC, says, "Participation in Cozad New Venture Challenge has grown significantly over the last 23 years, but that isn't the only indicator of the program's success. Several goals of this campus-wide program include educating our students, simulating a startup environment for the teams, and ultimately launching a successful venture. Thousands of students have experienced Cozad since its inception, and our most meaningful metric for success is that they've used the entrepreneurial mindset skills they gained to be innovative change-makers in the varied paths they pursued post-graduation. We congratulate the Cozad 2023 winning team, Top Tier Lessons, and all the teams that participated, and look forward to working with them in the future."
Second Place | $35,000
Led by Bioengineering students, Priya Kumar and Uditha Venkata Velidandla, Sakura MedTech won second place with $35,000 in investment. Sakura MedTech is a medical device company working to increase accessibility and comfort in gynecology by developing an imaging device for cervical cancer screening to reduce patient discomfort and improve medical efficiency for gynecologists.
Third Place Tie | $20,000 (Each)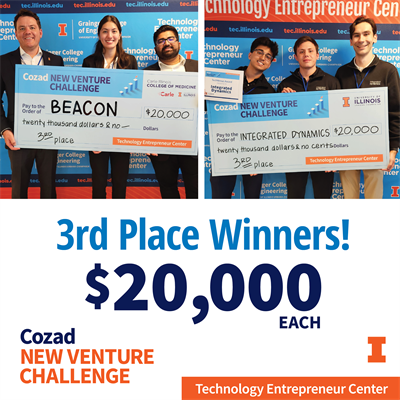 Integrated Dynamics and Beacon both won third place with $20,000 in investment each. Integrated Dynamics is transforming organic waste to generate economic benefits by converting food waste into green hydrogen. The startup is building hybrid bioreactors to turn organic waste into hydrogen gas. The team members represent Grainger Engineering (Bioengineering and CS).
The medical startup, Beacon, is developing Photodynamic therapy (PDT) that uses light and 5-ALA (LA is an FDA-approved drug for glioma fluorescence) to selectively ablate cancer and extend life for glioblastoma patients. Glioblastoma is the deadliest brain cancer with 15,000 new diagnoses every year. The team is led by Carle Illinois College of Medicine student, Anant Naik and the team members represent the Gies College of Business, School of Information Sciences, and Grainger Engineering (CS and ECE).
Fourth Place Tie | $5,000 (Each)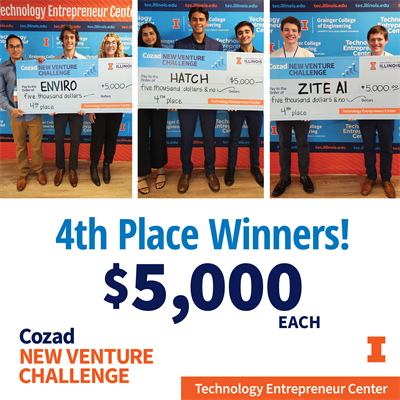 Zite AI, Hatch, and Enviro RegTech, won fourth place with a $5000 investment each. Zite AI makes small business owners' dreams come true by helping them select the perfect location to open their business, increasing their revenues, and reducing the risk of failure. The team members represent Grainger Engineering (Industrial & Enterprise Systems Engineering).
Hatch is an AI recruitment platform that allows recruiters to simplify workflow and rank hundreds of applicants in seconds. The team members represent Grainger Engineering (Industrial & Enterprise Systems Engineering).
Enviro RegTech, a B2B SaaS company, is overhauling safety by leveraging algorithms and Occupational Safety and Health Administration data to optimize compliance. The team members represent Grainger Engineering (Industrial & Enterprise Systems Engineering and ECE).
Healthcare Innovation Track Winners
The Healthcare Innovation Track provided access to a prize pool for healthcare-related teams only. Additional awards sponsored by Peter and Kim Fox and Henry Dale and Betty Smith Sports Medicine Innovation Fund were awarded to teams with the Carle Illinois College of Medicine.
Winner | Beacon
Cozad third place (tie) winner Beacon won the Healthcare Innovation Track with $25,000 in investment. Beacon won $25,000 in total investment including the $20,000 third place Cozad prize.
Anant Naik, Co-founder of Beacon, says, "The Cozad New Venture Challenge was a great learning experience. As a team of medical students and MBA students, we were able to access mentors and resources that were vital to our team's development and establishing a solid business plan. We would put the funding into expanding our product development and better validating our technology. We all look forward to keeping valuable mentors and connections moving forward as we advance Beacon as a platform for patient care, shedding light on a devastating disease, and pushing the intersection of engineering and medicine."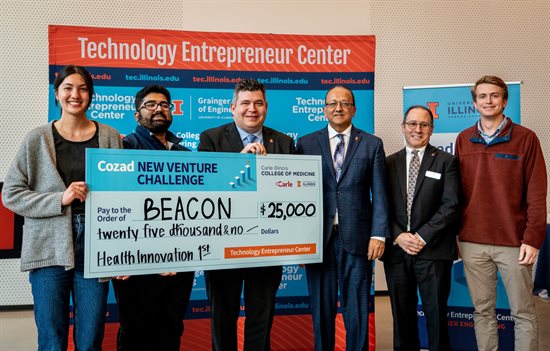 $10,000 Prize
STREAM and Diabeta Coach won $10,000 in investment each. Stream is developing a health monitoring device that seamlessly integrates into your daily life, giving you an up-to-date, nonintrusive way to assess your kidney function and overall health.
Diabeta Coach helps manage stress in patients with the type 1 and type 2 diabetes by providing personalized 1-on-1 coaching services that ultimately improve their long-term health outcomes.
$5,000 Prize
Cervicare won $5,000 in investment. The startup is developing a bedside test to screen for cervical cancer, limiting cost and the need for follow-up in underserved communities with limited medical resources.
Innovation In Sports Medicine Prize
$20,000 Prize
Neuronetix won $20,000 in investment. The startup is revolutionizing concussion diagnosis for athletes with accessible, cutting-edge technology for accurate and timely assessment of brain injuries. The startup is working on a device to quantify the diagnosis of concussions. Current diagnosis protocols are based on subjective self-reporting of symptoms, but Neuronetix is working to create a metric that uses a blood test to quickly, accurately, and objectively determine if a concussion has occurred.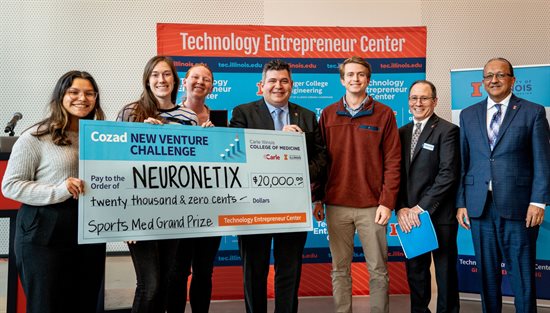 $5,000 Prize
Fall Protection Systems won $5,000 in investment. The startup is developing a device to help patients and aging individuals at risk for falls to do aerobic exercise safely to improve their physical health.
Other Prizes
In addition to the Grand Prize and other top placement prizes, sponsored prizes were also awarded. Details are listed below.
Dr. Paul Magelli Innovation Prize | $10,000
Second place winner Sakura MedTech also won the Dr. Paul Magelli Innovation Prize with $10,000 in funding by Illinois Ventures.
Edwin Moore Family Agriculture Innovation Prize | $2,500
Jeevatva, a sustainable waste management company that aims to bring domestic waste back into the cycle of use through composting and recycling, won the Edwin Moore Family Agriculture Innovation Prize.
University of Illinois Research Park Jumpstart Prize
University of Illinois Research Park awarded Jumpstart prizes to Zite AI, Enviro, Sakura MedTech, ClimeCast, and Reseed Solutions. Each of these teams will receive up to $5,000 in professional services.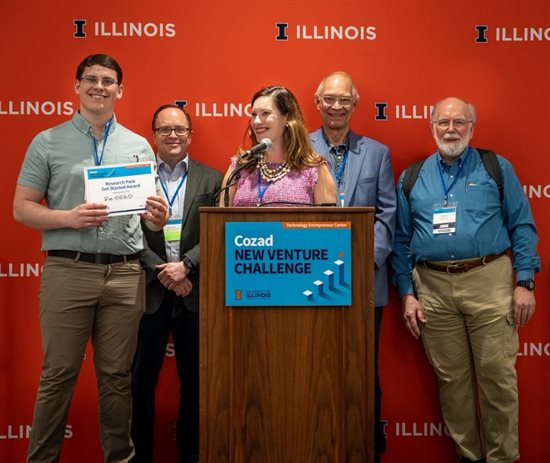 ClimeCast is developing tools to quantify the effects of climate-related disasters on property insurance premiums, helping businesses and homeowners evaluate the climate risk associated with any property.
Reseed Solutions is helping farmers integrate cover crops into their operation in a manner that reduces risk instead of increasing it and promotes incorporating further regenerative practices.
University of Illinois Research Park: EnterpriseWorks Incubator Affiliate Tenancy Award
All seven Cozad New Venture Challenge 2023 finalists won EnterpriseWorks Incubator affiliate tenancy for their teams to open a business location for free for 6 months. This includes the use of co-working space, access to conference rooms, common areas, support services, and entrepreneur assistance.
TechNexus Venture Collaborative Prize
Integrated Dynamics, Zite AI, Top Tier Lessons, and Enviro won access to TechNexus Venture Collaborative incubator space and resources in Chicago. The prize includes work and meeting space, and access to the TechNexus community of entrepreneurs and mentors.
mHub Prize
Beacon won a three-month co-working membership at the mHUB innovation center in Chicago, which includes prototyping support, mentorship, and more.
BioPhia Consulting Prize
STREAM and Neuronetix won in-kind consulting services from industry leaders in the pharmaceutical, biopharmaceutical, and medical device fields.
Illinois Business Consulting Prize
Galleon, a mobile application that is geared towards encouraging and gamifying local community exploration, won the consulting services from the Illinois Business Consulting.
Founders Prize
Timely and Green Remedy won $250 each from Founders, the leading non-profit student entrepreneurship organization at the University of Illinois. Timely is a skill-sharing platform that connects locally based users based on mutual skills, hobbies, or activities. Green Remedy is an educational mobile app where low-income young adults use interactive simulations to learn to save, spend, and borrow.
AWARE (Accelerating Women And underRepresented Entrepreneurs) Prize
Ten teams won access to dedicated resources, proof-of-concept grants, training, and networking opportunities to advance women and underrepresented entrepreneurs. The ten teams are: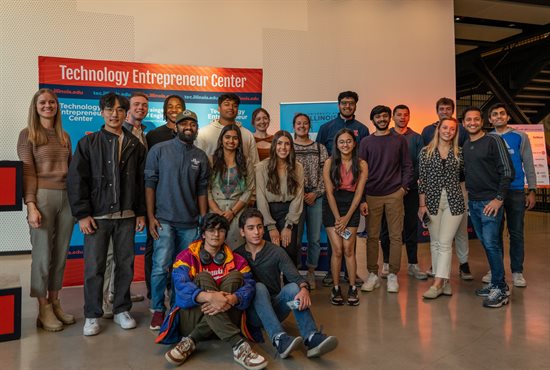 Cognify is a companion app that provides personalized activities to uplift your mood.
BYLD Innovations is creating a portable and user-friendly 3D printer to help users BYLD anything, anytime, anywhere.
Jeevatva is developing sustainable waste management solutions.
EmoNet is an AI-powered voice journaling platform for self-reflection.
Everything Parlays is a cross-sport gamified fantasy style sports betting platform that encourages user engagement through a more strategic and engaging style of placing parlays.
FEarless is developing a novel menstrual pad for adolescent women struggling with the stress of overnight period leaks because of outdated feminine care systems in the US.
Scroll is a mobile app that utilizes generative AI to turn hard-to-digest educational material, such as textbooks, into social media-style feed.
OneSpace is a desktop app that empowers you to collect, connect, and comprehend information effortlessly, all in one place.
Resolv is building a protocol that allows crypto users to recover stolen crypto after being the victim of theft.
Sound Asleep is developing a wearable sleep technology to read brainwaves, analyze sleep stages and quality, and deliver personalized auditory stimulation to maximize the benefits of sleep.
Singleton Law Firm Prize
Seven teams won free legal services from Singleton Law Firm in the areas of corporate formation, patent, trademark, and licensing. The teams are Top Tier Lessons, Neuronetix, Fearless, EmoNet, Cervicare, Presto Drill, and RadwaTech.
Presto Drill is simplifying the process of creating and teaching marching band drills for high school and college directors.
RadwaTech is innovating how we approach soybean disease through a quick and easy test kit that enables farmers to detect pathogens present before crop cultivation.
Magelli Office of Experiential Learning at Gies College of Business Prize
All seven Cozad New Venture Challenge 2023 finalists will receive a semester-long consulting project from the Magelli Office of Experiential Learning. A team of student consultants will work with the teams to complete an agreed-upon consulting project during the academic year.
Cozad New Venture Challenge 2023 Runners Up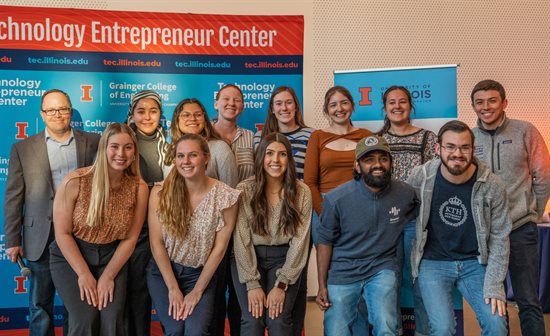 Resolv won $1,000 in funding for venture support.
FEarless won $770 in funding for venture support.
PlayTogether, HydroDyn, and Doublespot, each won $500 in funding for venture support.
PlayTogether is a multiplayer hosting platform that connects people across the globe, increasing the accessibility of technology through intuitive, human-centric design.
HydroDyn is elevating ventriculoperitoneal shunt performance with integrated intracranial pressure monitoring and active components, delivering critical insights and increased longevity for better patient outcomes.
DoubleSpot's venue management platform enables facility owners to fully realize their booking potential and event organizers to seamlessly find and reserve the ideal space.
Learn more about the past Cozad New Venture Challenge winners here.